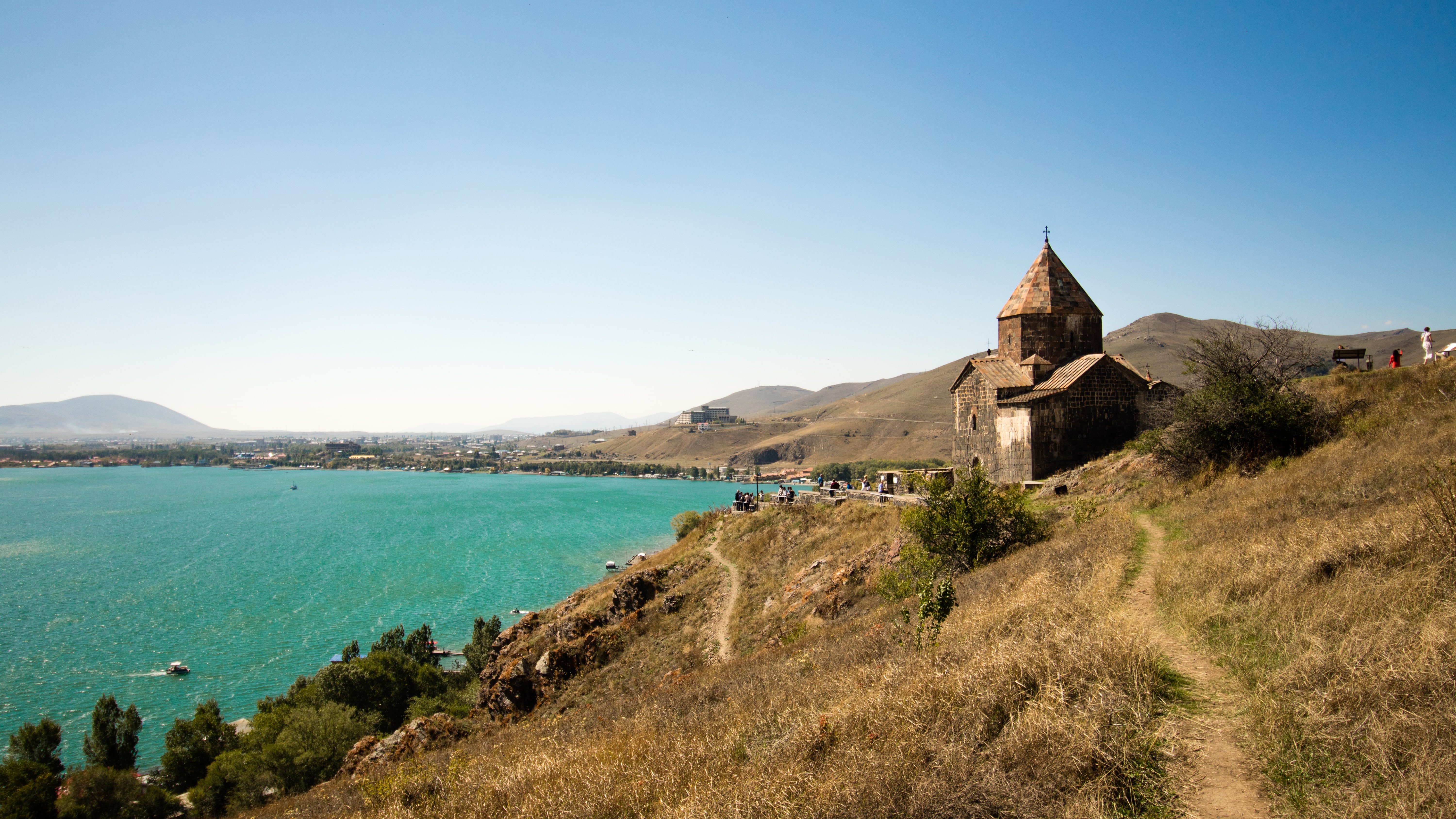 Sevan & Sevanavank Monastery
Sevan, is a town and urban municipal community, as well as one of the most and popular resorts in Armenia, located in the Gegharkunik Province on the northwestern shores of Lake Sevan. Which is set 1900m above sea level and covering 1240 sq km (around 5% of Armenia's territory). It is the largest lake in the Caucasus and one of the largest freshwater high-altitude lakes in the world. Its colors and shades change with the weather, forming dazzling azure to dark blue hues, and a thousand shades in between.

Lake Sevan is a popular destination for Armenians who tend to spend their hot summers in the area enjoying the sandy beaches and cool waters. Elsewhere, in the more remote parts of the country, winding roads surrounded by snow-topped mountains lead up to spectacular, lonely monasteries set in some breath-taking scenic locations where meeting other tourists or travelers is a rarity. But not here.

There's quite a lot happening around extensive shores of Lake Sevan. A little peninsula, which was once an island, is home to a 9th century Armenian church called Sevanavank whilst the curious Noratus cemetery and solitary Hayravank monastery are close by.

Sevanavank is medieval monastery situated on a picturesque cape of the north-west coast of Lake Sevan in Armenia's Gegharkunik Province. Because of the easy accessibility and the stunning location, Sevanavank is among the most visited tourist spots in Armenia. The Sevanavank mostastery was originated by Princess Mariam in 874 in Armenia under the Arab rule. There are two churches in the Sevanavank monastery. "SurpArakelots" which means "Holy Apostles" and "SurpAstvatsatsin" which means the "Holy Mother of God". Both the churches are octagonal in shape.

If you're lucky and the skies are clear, you can expect to get some great photo shots of the churches overlooking the lake.
Helpful tips
---
Restaurants. As it is one of the most visited and easily accessible tourist attractions in Armenia, there are plenty of restaurants. However, we did not try any of them as it was not our goal once there. The view from some of them is really picturesque.

Markets. In Sevanavank as in every other location on the world enjoyed by tourists you will have a chance to buy overpriced souvenirs. However, prices in Sevan grocery shops are similar as in all country.

Transportation. To get to Sevan & Sevanavank you can use car, bus, train or taxi which ever you think is more convenient for you. We hitchhiked from Yerevan which was really easy, it is not far and has great infrastructure and accessibility.

To get around the city is best with a car or taxi might be a quick option as well.
Best of luck planning your holidays in Armenia!

Is there anything else you would like to visit while in Armenia?

If you have anything in mind, please let us know and let's discuss it.

For more traveling tips subscribe to our newsletter!