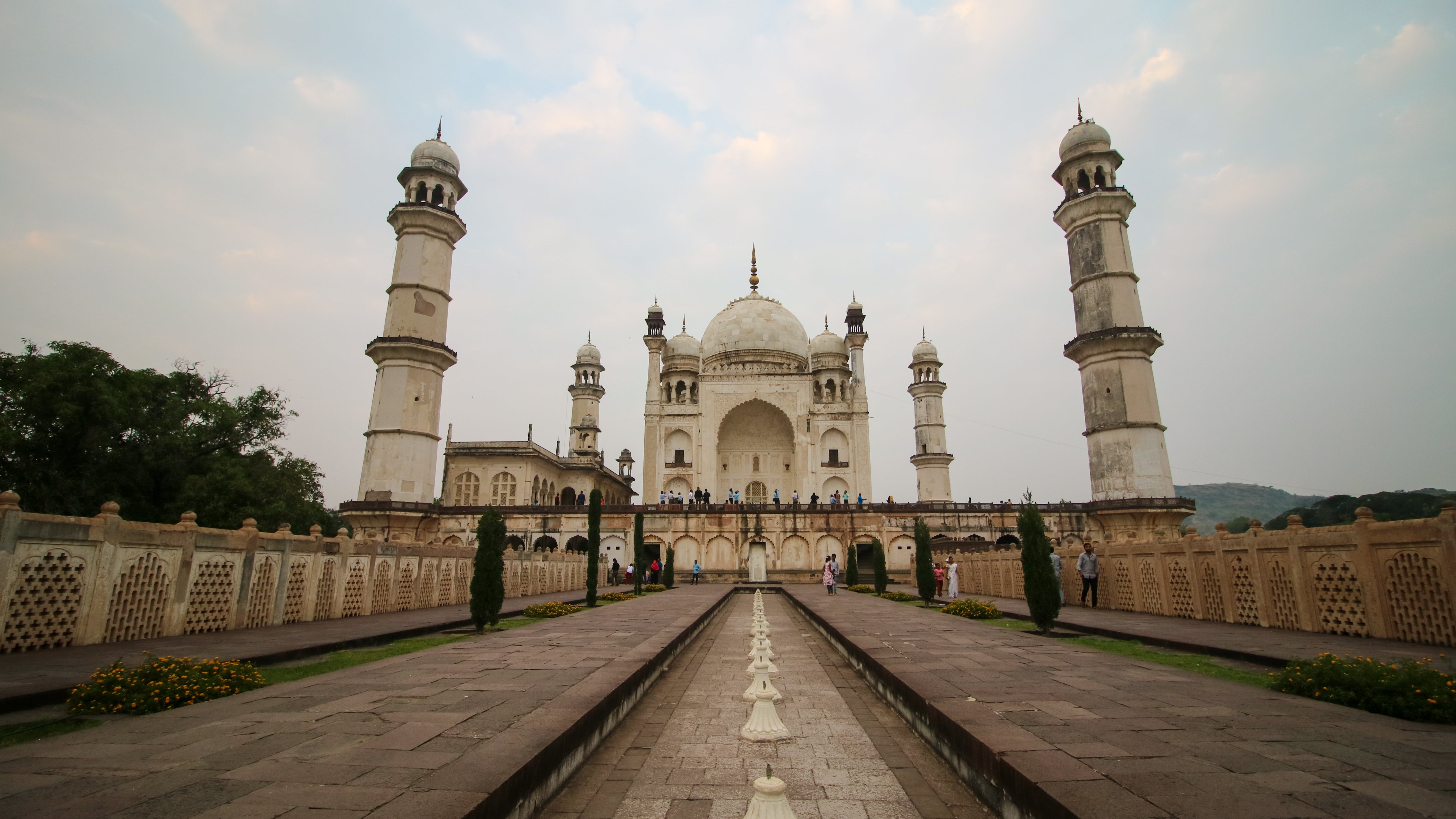 Aurangabad
Aurangabad is a relatively small city which experienced its golden age between 1653 and 1707 when it was declared capital by Mughal emperor, Aurangzeb. With the death of emperor came the city's decline, however, during that short period while city situated in Maharashtra state was the capital couple fascinating monuments were built. On the north western edge of the city, near Makai gates you can find small copy of Taj Mahal Bibi-qa-Maqbara or Tomb of the Lady. This is the major structure built through the emperors' rule which strikes remarkable resemblance with Taj Mahal. To current day it is attracting hordes of tourist every day.

City is attracting travelers not only because of the Taj Mahal replica, nor because of medieval Daulatabad Fort located west of the city but rather because it is a perfect base camp for the ones who want to explore nature and World Heritage sites of Ajanta and Ellora. Both of these cave complexes are located up to hundred kilometers distance from Aurangabad and many uses the city as a place where they stay during the exploration of these two as it holds most of accommodation options, has best accessibility by any means of transport and is on the way when traveling between the caves.
Helpful tips
---
Restaurants. After traveling through India, we gathered experience and tips from locals which we want to share with everyone who will be reading this. If you come to India for a short period of time it is good to know that here certain bacteria are in almost every food, water and even air which can put you to bed for couple days if you have too much of it. To adapt to it, your body needs time and small amounts of the bacteria.

First, it is better to avoid eating too much of street food as it contains quite a lot of bacteria even though it is so cheap. We do not say that you should not eat street food at all, just keep it small quantities at a time. If you cannot wait to try and eat all sorts of street food just try it little by little and not everything on one go.

Second, when choosing a place where to eat, pay attention to other travelers' reviews of the place. It is very important how the people from abroad felt about the food rather than locals.

Third, if there are any doubts regarding the hygiene of the place, we encourage to eat vegetables and avoid meat dishes.

We are well aware that everyone is different, and you feel your body the best. So, do what you want to do and keep in mind that these recommendations worked for us, we did not get sick while in India even for a day.

Markets. Prices in grocery shops are the same as through whole India, prices are printed on the packages, thus, you never need to wonder whether someone is taking advantage of you.

We would advise against drinking tap water in whole India, especially if you come just for a short time (couple weeks) as your body needs time to adjust to certain bacteria which is everywhere and taking too much of it at the same time can put you bed for couple days. Even though in some sources you could find that water is safe to drink, or that filtered water is alright we suggest to double check with your host or locals before you do that. We did not risk it too much, especially in the beginning of the trip, however, we did drink quite a lot of filtered water which was kind of alright just had a bad taste in most places.

Transportation. To get to Aurangabad you can use bike, train, bus or car. As it is an average city and used as a larger city to stay in while visiting Ajanta and/or Ellora caves, on top of that you can use any other transport you feel like using.

In the city it is common to use public transportation such as buses, taxies or Tuk Tuk's which are the fastest way to get around the city. Tuk Tuk's are a quick and cheap option where you must bargain though. Most of the time we used Tuk Tuk's for big trips from one end to another and walked as it helped to get to know the city and see not only the touristic places and we recommend you do the same if you have a chance.
Best of luck planning your holidays in India!

Is there anything else you would like to visit while in India?

If you have anything in mind, please let us know and let's discuss it.

For more traveling tips subscribe to our newsletter!