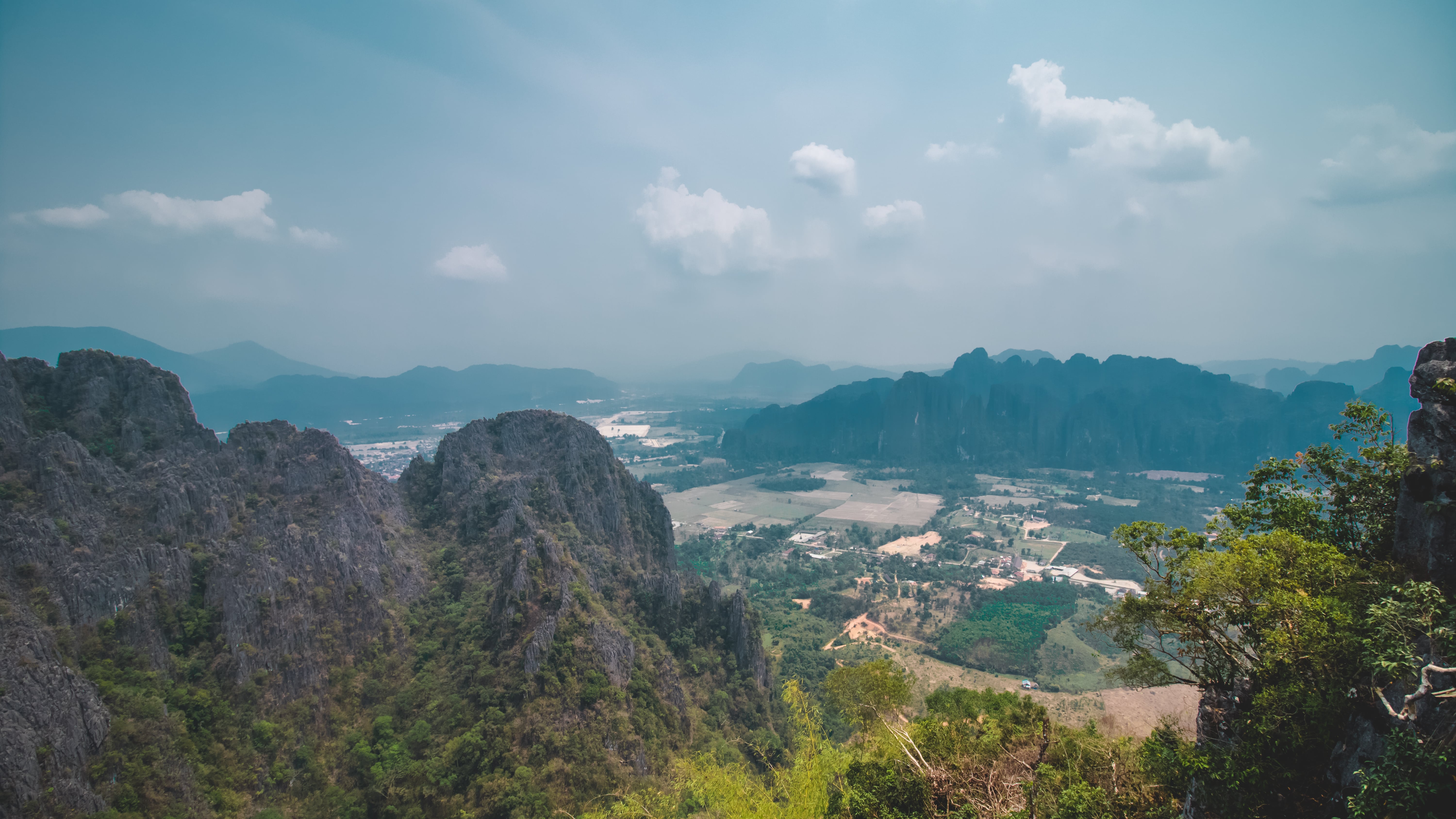 Vang Vieng
Vang Vieng is a relatively small town on a Nam Song river with spectacular nature attractions surrounding it. Nearby there is striking limestone mountains, karsts, caves, rice fields and lagoons. With so much natural beauty, tons of bars, restaurants, accommodation option to fit every budget and their sweet location between Vientiane and Luang Prabang gave it perfect ground to be converted into huge tourist trap for travelers of any kind.

In 2012 Lao government took initiative to clean up Vang Vieng image and whipped out most of toxic party scene and wild reputation this town had. The reason behind it was that young people who came here, enjoyed cheap drinks and swam in the river led to a number of accidents over the years. They closed many businesses including river rave bars where people could enjoy cheap alcohol and get drugs. After conversion community is trying its best to adapt and now it became more a family or adrenaline-fueled adventure destination rather than those who are looking for a hard party scene.

Even though there is no problem to find an exciting nightlife scene as there is a great number of local cafes, restaurants and bars, the town is little less wild and a more focused on cultural activities. Vang Vieng itself is nothing special at all. Covered by concrete hotels built bigger than their neighbors to get a better view of the Nam Song river. Idyllically, after crossing the river something changes. The life on the other side is more rural, there are multiple magical limestone caves, karsts and mountains. Spending few days, climbing a cliff, ziplining, tubing, trekking or renting a motorbike and exploring the surroundings allows to scratch the surface of life here and witness the true natural beauty of Vang Vieng surroundings, one of the most picturesque spots in Laos.
Helpful tips
---
Restaurants. There are multiple places in the city where you can find descent food. In most of the local restaurants you will find price and quality ratio alright and fresh food. Stop by and try local food in street or night markets, look for a cleaner place and enjoy!

Most of the great food places we found in the main city area, scattered around and enjoyed by travelers. Many from which situated in the heart of town.

While here be sure try street food from night market, its relatively cheap and great opportunity to have something truly local.

We usually ate in "Green" restaurant as on top of perfect quality food it accepted card payments. It is our #1 place in Vang Vieng. The owners are amazing, the food was great every time we ate there.

Markets. In Vang Vieng as in almost every other city in Laos you will not easily find a lot of cheap souvenirs to put on your fridge. However, we encourage to walk around and look for hand made goods in local markets. Here they will charge you more if you look like a tourist. In shops all over city prices vary around same level, thus, choose a more convenient for you. We did not find a shop which would accept card payment, thus, be prepared and have some cash with you!

Transportation. To get to Vang Vieng you can use car bus or boat, as it is a beloved tourist destination the accessibility is great, also it is on the road between Vientiane and Luang Prabang. We traveled to Vang Vieng using hitchhiking from Vientiane. The road quality is alright, they are not massive but well maintained. We got lucky and reached Vang Vieng in the middle of the day. Either way you choose, be aware that infrastructure is not bad but clearly not the best, roads are small and sometimes two-line road (one line each direction) is already considered as a highway. So, do not forget to enjoy the trip not only the destination.

Inside the city you will find yourself using bikes or mopeds which are one of the most convenient transportation devices used to get around. However, exploration is doable on foot if you decide to skip on bike.
Best of luck planning your holidays in Laos!

Is there anything else you would like to visit while in Laos?

If you have anything in mind, please let us know and let's discuss it.

For more traveling tips subscribe to our newsletter!