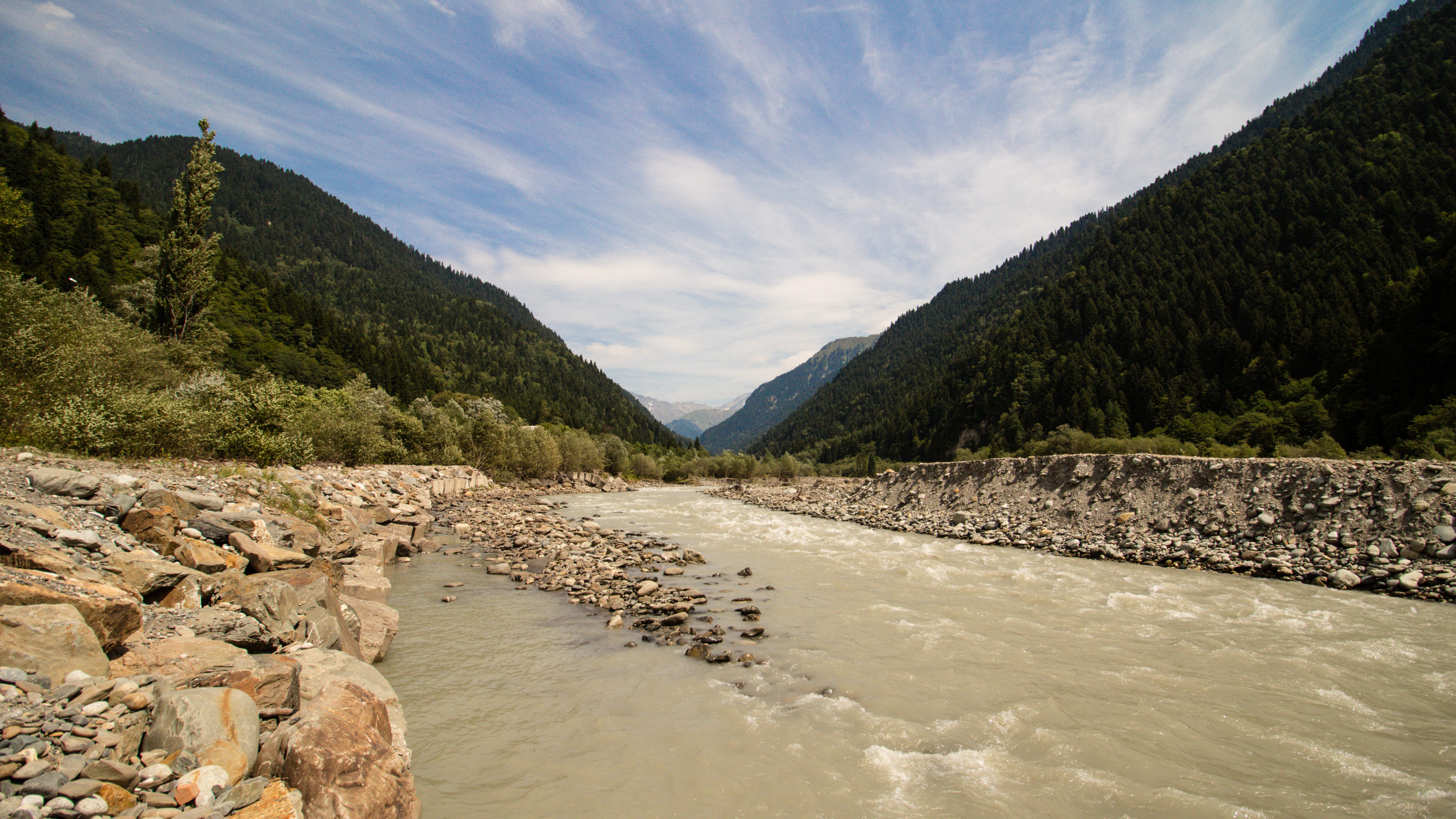 Racha Region
The region of Racha-Lechkhumi and Kvemo Svaneti is situated in the northern part of western Sakartvelo. The region consists of 4 administrative municipalities: Tsageri, Lentekhi, Ambrolauri and Oni. Great geographic location, rich landscape, strong rivers, waterfalls, picturesque paths and roads, Shaori and Lajanuri reservoirs, diverse flora and fauna, best mineral waters in the country (much better than Borjomi) is what defines this region. There are lots of health, mineral and sulphuric waters in the region, therefore, many resorts were built here during Soviet occupation.

Racha-Lechkhumi plays important role in manufacturing sweet and semi-sweet wines. So, there are many Vineyards in Racha. The most famous one is local "Khvanchkara" semi-sweet wine. There are many cultural heritage monuments in Ambrolauri including most important Barakoni and Nikortsminda Churches and Bugeuli town.

Church of Nikortsminda – a Dome Cathedral in Racha, 15 km away from Ambrolauri, in the hamlet of Nikortsminda. A highlight of the town and a cultural site like making this city a highly visited location in the region. While Barakoni Church – is one of the last important monuments in Racha belonging to the Middle Age Sakartvelian dome architecture. The cathedral was built with cut stone and is richly ornamented.

But it is enough about churches, Racha region is famous to have one of the most beautiful nature in whole country. It can be discovered in Utsera – a mountain spa and health resort, located in Upper Racha, 15 m away from Oni. The name of the village is linked to the Sakartvelo Queen – Tamar. When she was traveling in Racha, she was astonished by its beauty and said: "Oh, what an unspeakable beauty". The word "unspeakable" changed in the course of time and this settlement was called "Utsera", which means "un-writable" in Kartvelian language. So, this nature is really un-writable, and if you want to see that, you should travel here. We assure you will not regret this decision.

In Upper Racha, we found probably the most stunning part of this region for us after many local insights and recommendations – Shovi. It is a small spa resort health center town surrounded by coniferous and mixed forests, and perpetually snowy glaciers. Here you can find more than 16 different mineral water springs. Each of them is unique, different with its contents and is used for treatment of different diseases. The unbelievable beauty of Shovi scenery and the glut of mineral waters has been known from ancient times. In Soviet period beautiful health centers and rest-houses have been built here. Shovi is an interesting place for hiking in mountains, climbing, skiing and even rafting. People come here to walk around, enjoy healthy mineral springs and picturesque views.

If you ask us, all the municipalities are worth visiting! Some more than others, however, the whole region is far beyond anything else what you can witness in this country. Before the trip here we were advised multiple times to go here and we did not hesitate, planed our route and explored this region thoroughly. We could only thank our friends who suggested to do so, thus, now we are encouraging you to do it as well!
Helpful tips
---
Restaurants. Hotel Svaneti Restaurant – located in Lentekhi town, one of the region capitals. Here we were left speechless of how professional and tasty the cook was preparing the food. We could witness the whole process through glass walls. We got great service, but most of all we enjoyed the great quality and fresh food there. It was not a budget option though.

Markets. In Racha region we did not notice so many shops who can sell you overpriced souvenirs. However, there will be plenty of on road shopping stands where you will be able to purchase local wine, honey and "Chacha"!

Prices in grocery shops are the same as through whole Sakartvelo, however, take into consideration that bigger shops usually hold better price.

Tap water in Racha region and in whole Sakartvelo is amazing. They have huge underground water reserves, mountain springs and water there is clear and tasty in most of the places. Thus, we recommend trying it and do not bother buying it from shops. Neither of our hosts advised against using water from tap for drinking.

Transportation. To get to Racha region you can use plane, train, bus or car. As it is one of the largest regions well known for its amazing nature in Sakartvelo, it has great accessibility and you can use any other transport you feel like using. Fastest way is to fly to Kutaisi and travel around with car.

In the region it is not common to use public transportation such as buses, even though, you can find minibuses driving around. Locals usually use cars or taxies which are the fastest way to get around. Also common is to hitchhike, that was what we did. Also, we walked & hiked a lot as it helps to get to know the region and all the hidden places which are not on the main road.
Best of luck planning your holidays in Racha Region!

Is there anything else you would like to visit while in Sakartvelo?

If you have anything in mind, please let us know and let's discuss it.

For more traveling tips subscribe to our newsletter!