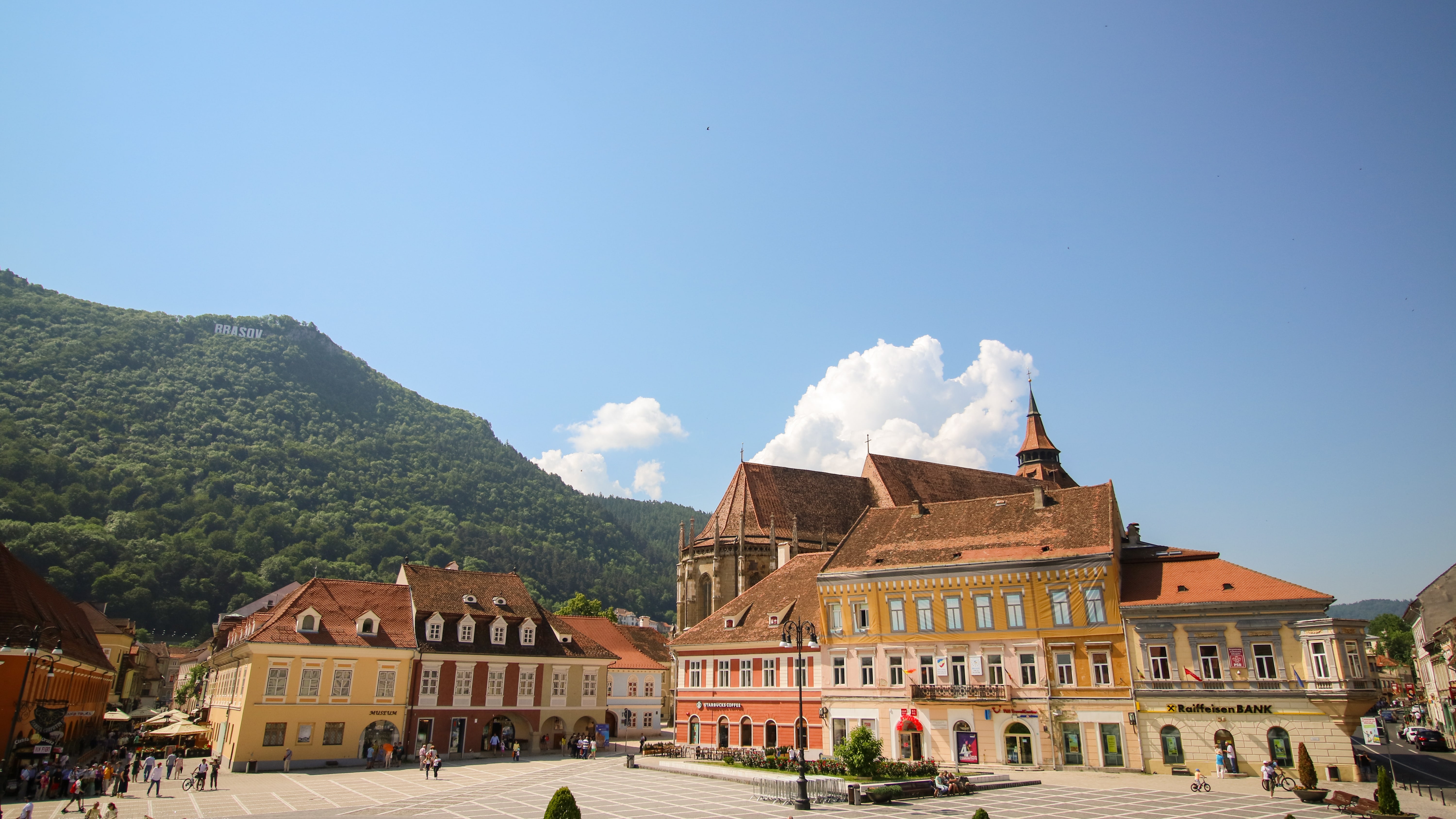 Brasov
Brasov city is located in center of Romania surrounded by beautiful towering mountains, rolling fields, thick forests and villages with fortified churches. As part of Transylvania region, it is resplendent with gothic, baroque and renaissance architecture. In the city and not far away around it you will be able to find many historical attractions. We could state that Brasov is probably one of the most visited places in whole Romania.

Town location is on previously used trade route intersection between Ottoman Empire and Western Europe. This allowed city and its merchants to prosper and spread quite a lot of influence over whole region.

Fun fact is that in Brasov you can find one of the narrowest streets in Europe called Rope street! The whole Old Town is magnificent, filled with many colorful buildings and picturesque architecture. Stroll around the city exploring its jewels like Town Hall Square, Black Church or White and Black towers.

We made couple adventurous day trips to surrounding towns and we enjoyed what it had to offer. But most importantly, we must say that we found this lovely town worth couple of our days which we spent exploring it! If you find time, we would highly recommend taking a hike to a nearby mountain (with the name Brasov on top of it). There are quite a few options of how to get on top, we did that on foot through considerably hard hiking trail. Yet we did that with slippers, thus, we encourage that everything is possible, and you can always take a cable car if you do not feel like hiking.
Helpful tips
---
Markets. In Brasov as in every other location on the world enjoyed by tourists you will have a chance to buy overpriced souvenirs. Here prices in shops and markets are similar and you should use more convenient one for you.

In central Romania you should not worry about water as it is drinkable from tap. Because of good mountain water. However, in case you are not sure, just double check this with locals.

Transportation. To get to Brasov you can use car, bus, train or plane, which ever you think is more convenient for you. And we found that to get around the city is best on foot. However, you can always use local buses, sometimes taxi might be a quick option as well.
Best of luck planning your holidays in Brasov!

Is there anything else you would like to visit while in Romania?

If you have anything in mind, please let us know and let's discuss it.

For more traveling tips subscribe to our newsletter!