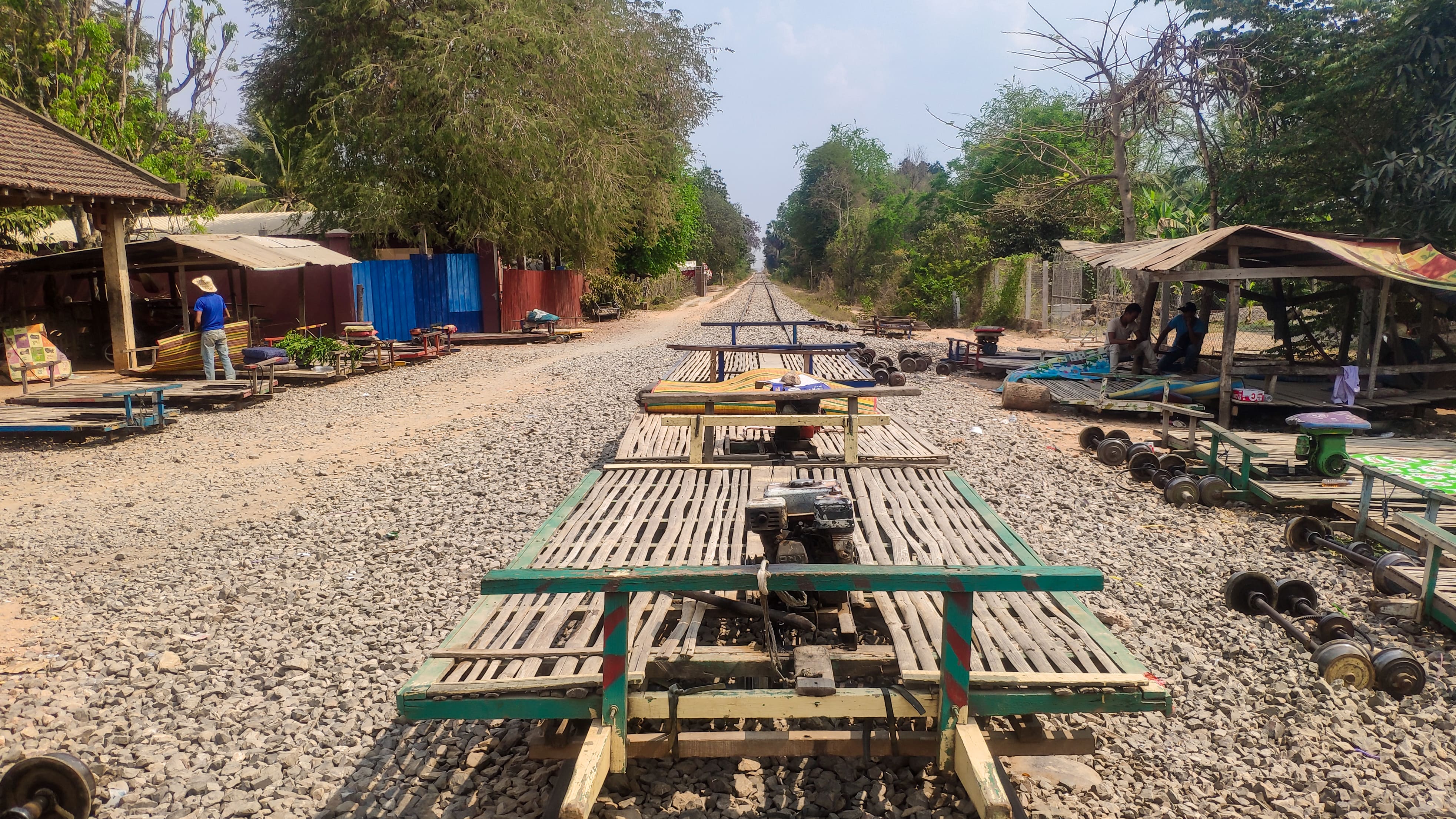 Battambang
Battambang is a lovely small city in the northwestern Cambodia. In sense it is very similar to most cities in Cambodia, however, it has its own unique charm. Here as in most larger cities around the country we found some eroding colonial architecture and surprisingly not that much to explore. Nevertheless, there is something about Battambang that so many travelers enjoy!

Atmosphere in the city is laid back and travelers stop here for a couple day cruise back in time. Visiting museums hosting local Khmer temples artifacts situated in old colonial structures, getting a ride with a bamboo train which is using decommissioned railway outside of city center or relaxing in one of many cafes scattered through out the city. If visitors come here during the rainy season, they have a great chance to try a scenic river ride to Siem Reap. Battambang has a great and friendly small city vibe to it.
Helpful tips
---
Restaurants. There are multiple places in the city where you can find descent food. In most of the local restaurants you will find price and quality ratio alright and food fresh. Stop by and try local food in street markets, look for a cleaner place and enjoy!

We enjoyed our meals most in two restaurants which are close to one another!

First was called "About the World" and second – "Woodhouse". Both of these places offered similar price quality ratio and great Khmer cuisine dishes. On top of that, the happy hour with best prices for drinks in whole city!

Markets. In Battambang as in almost every other city in Cambodia you will not easily find a lot of cheap souvenirs to put on your fridge. However, we encourage to walk around and look for hand made goods in local markets. Here they will charge you more if you look like a tourist. In shops all over city prices vary around same level, thus, choose a more convenient for you. We did find that "Lucky" supermarket, which was near our hotel accepts card payment, however, town is full of small shops and markets which do not, thus, be prepared and have some cash with you!

Transportation. To get to Battambang you can use car, bus, plane or boat as it is not for a big city it has quite developed infrastructure and accessibility. We traveled to Battambang using hitchhiking from Siem Reap. The road quality is good and when the construction will be over, it will be even beeter. Currently, the roads are not massive but well maintained. We got lucky and reached Battambang before the sunset. Either way you choose, be aware that infrastructure is not bad but clearly not the best, roads are small and sometimes two-line road (one line each direction) is already considered as a highway. So, do not forget to enjoy the trip not only the destination.

Inside the city you will find yourself using local Tuk Tuk's, bikes or mopeds which are one of the most convenient transportation devices used to get around. However, exploration is doable on foot if you decide to skip on bike.
Best of luck planning your holidays in Cambodia!

Is there anything else you would like to visit while in Cambodia?

If you have anything in mind, please let us know and let's discuss it.

For more traveling tips subscribe to our newsletter!