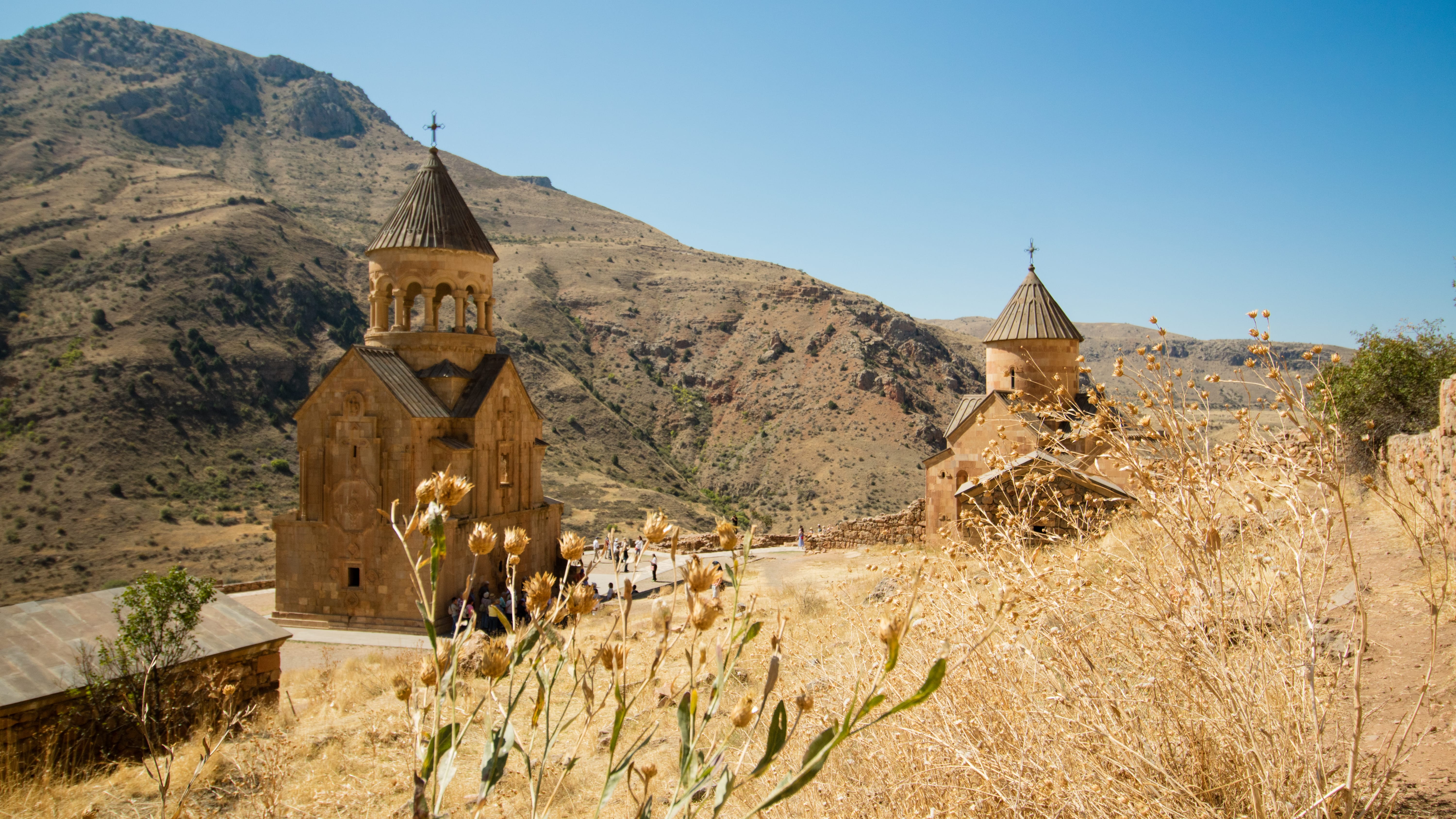 Noravank Monastery
Noravank is a 13th-century Armenian monastery, located 122 km from Yerevan in a narrow gorge made by the Amaghu River, near the town of Yeghegnadzor, Armenia. The gorge is known for its tall, sheer, brick-red cliffs, directly across from the monastery.

Armenian monastery built in 13th century and known as Noravank is a hauntingly preserved religious complex sitting in a picturesque valley. However, it may not be standing today if it were not for the eyes on a representation of God. The monastery stands as an example of ornate architecture for the period. There are three churches left standing, each decorated in intricate designs and religious reliefs. Sculptors stonework still survives till today, he carved a number of uniquely Armenian religious monuments known as "khachkars".

Even though it is truly magnificent masterpiece, Noravank almost didn't make it out of the Middle Ages. During Mongols rule of Armenia in the 13th century they set about sacking many of the historic temples of the country. According to people who nowadays tells stories about the monastery, Noravank should thank to a relief of God himself for this fate. On it you can see large almond-shaped eyes which reminded the Mongols Asiatic heritage and they simply spared it.

This turned out to be a really good thing for Armenians as currently the existing ruins of the churches are one of the loveliest historic sites in modern Armenia. The Mongols might not have appreciated it much at the time, but Noravank both accents and rivals the natural beauty all around it.
Helpful tips
---
Markets. In Noravank Monastery as in every other location on the world enjoyed by tourists you will have a chance to buy overpriced souvenirs.

Transportation. To get to Noravank Monastery you can use car, bus or taxi whichever you think is more convenient for you. We hitchhiked and it went perfectly well. Also, witnessed many people using their own or rented cars, also, bus and taxi tours.
Best of luck planning your holidays in Armenia!

Is there anything else you would like to visit while in Armenia?

If you have anything in mind, please let us know and let's discuss it.

For more traveling tips subscribe to our newsletter!