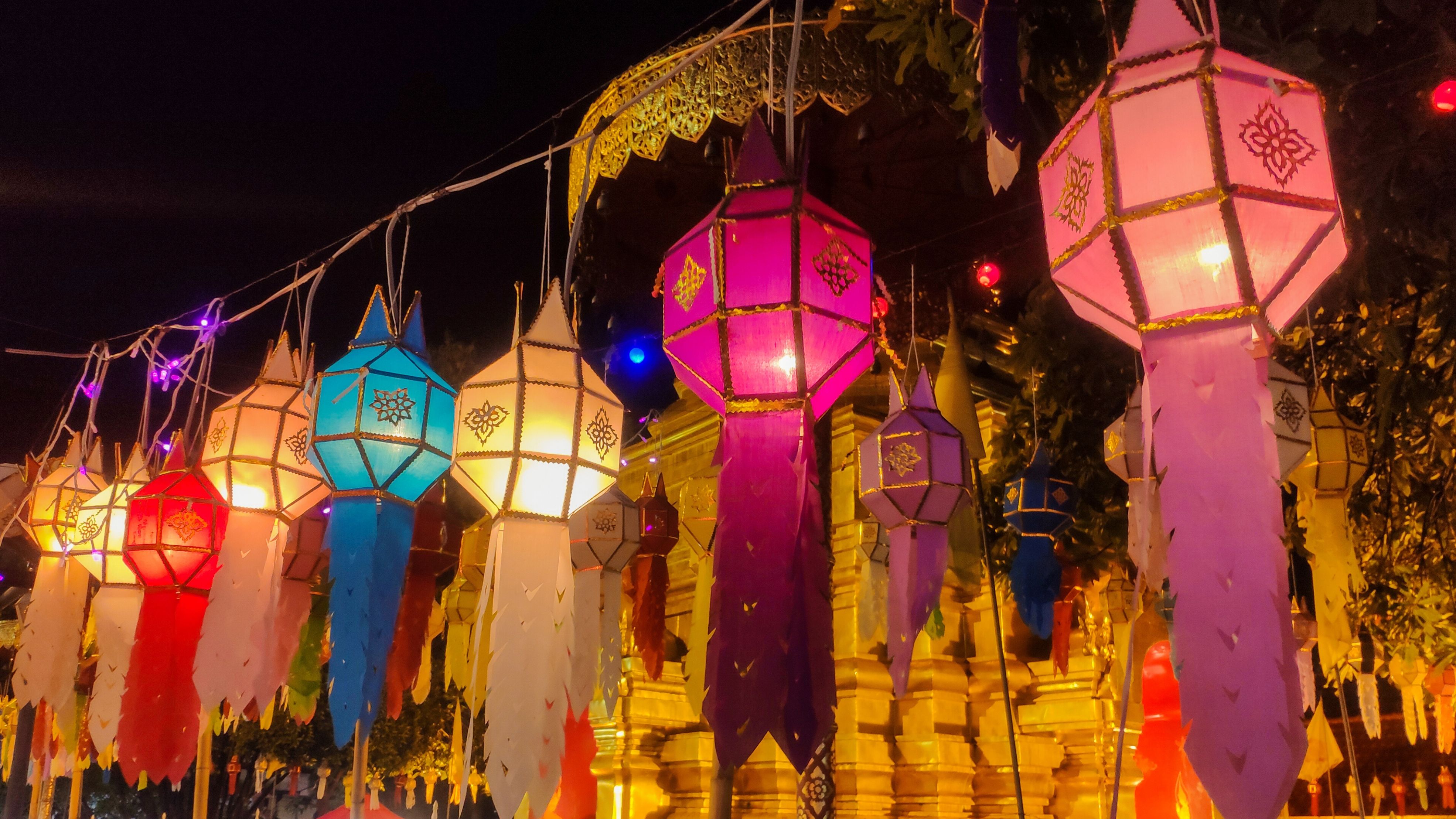 Chiang Mai
Chiang Mai – a city in mountainous northern Thailand full of temples, history and warm welcoming locals. Many travelers use it as a base city when traveling surrounding national parks, other cities or doing famous Mae Hong Son loop. And we understand them perfectly as this former capital of the Lanna Kingdom (independent until 1558) is a calm and relaxing place. Once here you easily join the laid-back rhythm and can get your energy back up again. On the other hand, there is a great choice of activities to participate in here. If you are hungry for exploring Thai culture, cuisine and historical sights you just need to stroll around the Old City and discover that Thai atmosphere surrounding the town.

Around Old City area where vestiges of walls and moats from its history as a cultural and religious center still retains, grows a modern and new city of Chiang Mai. Despite this, the Old City is still full of residential areas where you can find peace. City is ringed by a tangle of new highways crossing to multiple directions. This helps when you want to travel around and experience amazing sights, green countryside, rainforests with many waterfalls or mountain temples nearby Chiang Mai. Let's not forget elephant sanctuaries and local markets in nearby villages.
Helpful tips
---
Restaurants. There are multiple places in the city where you can find descent food. In most of the local restaurants you will find price and quality ratio alright and food fresh. Stop by and try local food in street markets, look for a cleaner place and enjoy! There is also a Sunday night market going every Sunday in the main street of Old town. If by any chance you will be in Chiang Mai during Sunday, you must not visit this unique experience.

Markets. In Chiang Mai as in almost every other city in Thailand you will easily find a lot of cheap souvenirs to put on your fridge. Local markets will charge you less the less you look like a tourist and if you know some simple Thai phrases, that will melt their hearts away. In shops all over city prices vary around same level, thus, choose a more convenient for you. Tesco Lotus accepts card payment, even if you do not spend 300 baths as in every other shop like for instance 7/11. We found it particularly convenient when you just need something like a water bottle or some snacks.

Transportation. To get to Chiang Mai you can use car, bus, train or plane as it acts as a center for visiting north of Thailand and many people use it as a base transportation it is easy to get there. We traveled to Chiang Mai using hitchhiking from Sukhothai. After quite a long ride switching many cars and thousands of steps done we got to our destination. However, it was not over! We still had around 5km to our hotel when we decided to hitchhike in the city and instead of going to our hotel we ended up in a nearby mountain temple with lots of "Wish granting" pagodas. That was a lovely experience with local family which suggested to take us there and show us around. So, either way you choose, do not forget to enjoy the trip not only the destination!

Inside the city you will find yourself using local Tuk Tuk's, bikes or mopeds which are one of the most convenient transportation devices used to get around. However, exploration is doable on foot if you decide to have a good exercise.
Best of luck planning your holidays in Thailand!

Is there anything else you would like to visit while in Thailand?

If you have anything in mind, please let us know and let's discuss it.

For more traveling tips subscribe to our newsletter!