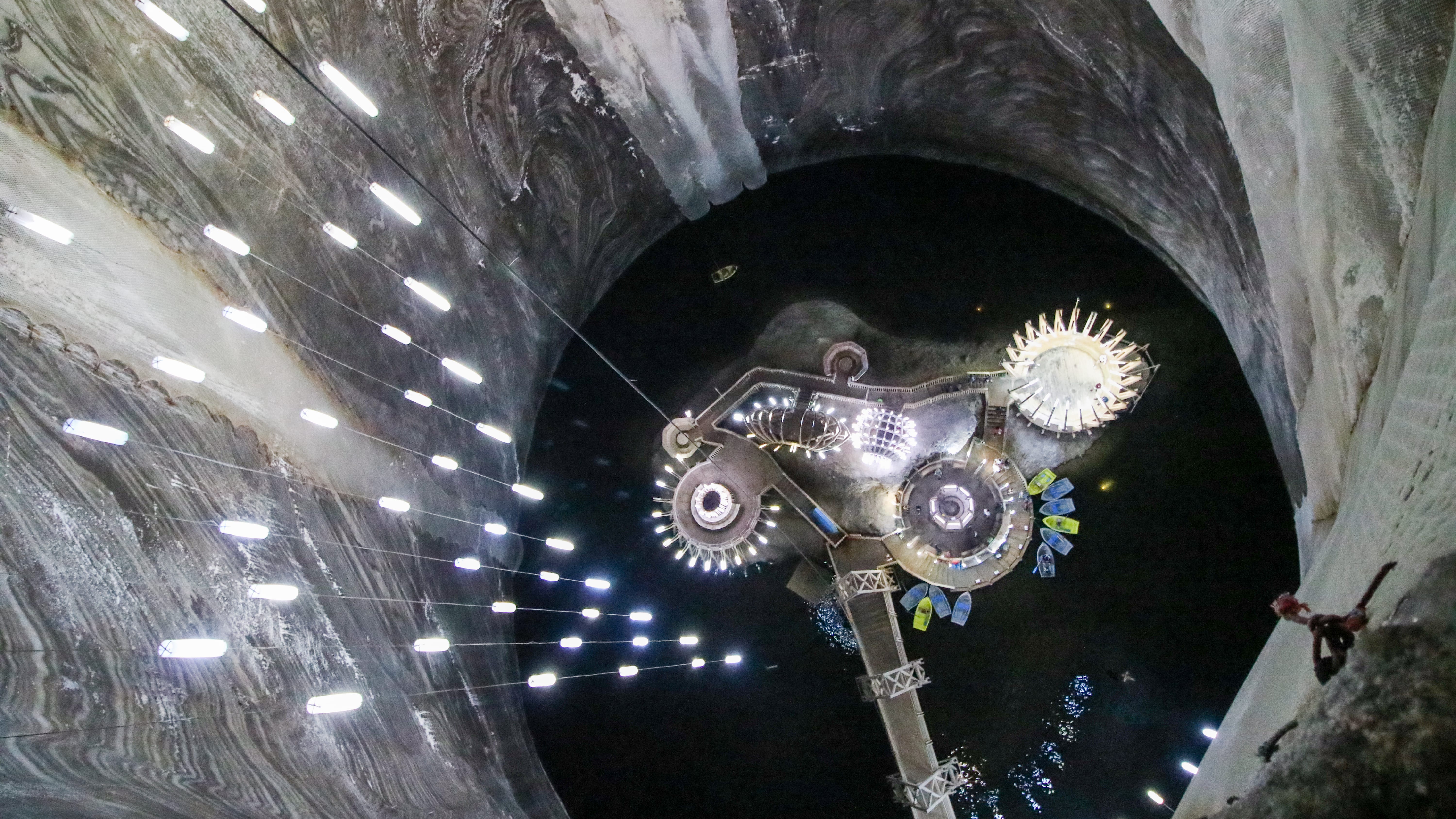 Salina Turda
Welcome to the Batcave! One of the oldest and largest salt mine museum in the world which futuristic interior reminded us the headquarters of the well-known best detective of all time – Batman! Unfortunately, there was no Batman inside, however, the place is absolutely fantastic and soon you will know why!

Salina Turda located in Turda town, Cluj county is a salt mine that counts more than 2,000 years of history. A surprising fact that explosives were never used to hollow the mine! The salt was mined manually using pickaxes, hammers, chisels, and steel wedges, by free people who were paid in florins, ale, and loaves of bread. After closing it in 1932 it was used as a bomb shelter during the World War II, later as a warehouse for storing cheese.

Regardless of its history, this salt mine is not only a museum, but an epic tourist attraction. Located 120 meters underground there is an incredible, innovative look amusement park that makes you feel like walking in science fiction movie. The park includes underground amphitheater, rowboats, bowling, mini golf and even spa treatment rooms. It looks a bit commercialized, but this does not stop you from admiring the magnificence of Salina Turda. You will be astonished by hundreds of meters of galleries that turns into huge halls. The most impressive - Terezia Mine - hall of 90 meters high and 87 meters in diameter with underground lake all carved by people hands will leave you speechless.

So, get ready for your next trip to the one of the most stunning places in the world - Salina Turda!
Helpful tips
---
Schedule and prices. Salina Turda is open every day (Monday-Sunday) form 9 AM to 6 PM. Ticked for adults is 40 lei / pers. and 20 lei / pers. for students, children and seniors. We recommend to check schedule and prices in their website before visiting the mine.

Access. We use Entrance Salina Turda through the street Salinelor No.54B (46.583742, 23.776267) which was recommended us by the locals and took a walk through long tunnel which leads you to the mine. There is also a new entrance in street Aleea Durgaului N0.7.

Transportation. You can easily access Salina Turda by car or bus. As it is one of the main tourist attractions in Transylvania region, it has great accessibility and tourists can find it easy to get to the city and around.

Getting around. Salina Turda is located near one of the most beautiful cities of Romania - Cluj-Napoca. It is the second largest town in country that has a long and interesting history also wonderful old town. So don't forget to include it to your bucket list!
Best of luck planning your trip to Salina Turda!

Is there anything else you would like to visit while in Romania?

If you have anything in mind, please let us know and let's discuss it.

For more traveling tips subscribe to our newsletter!