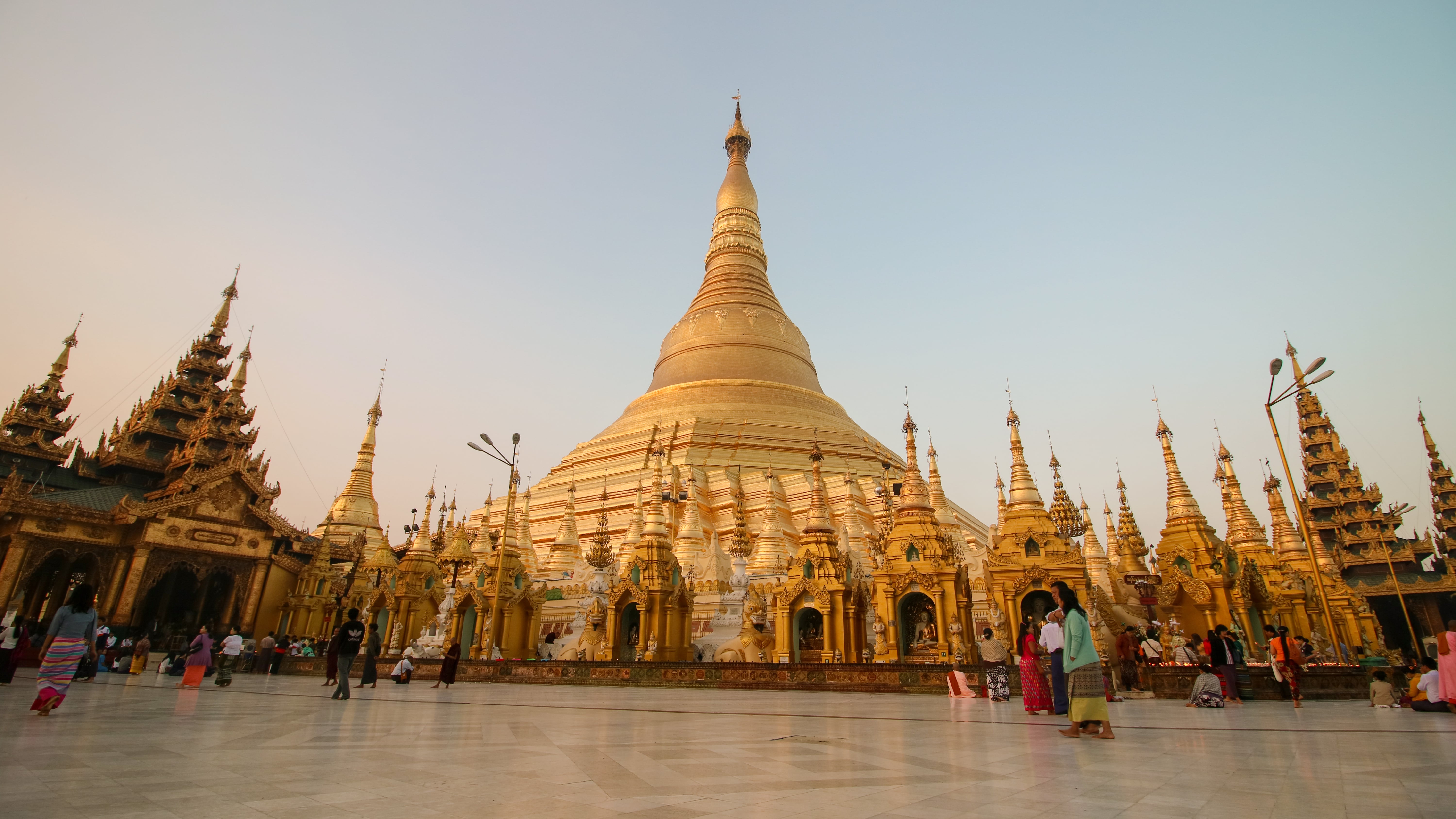 Yangon
Yangon also known as Rangoon is the largest city in Myanmar. It is a great reflection of changes that have occurred since the country reopened to the world. Foreign investors mostly from Asia finds their place here, politics who were exiled are coming back and on top off all that you get masses of foreign tourists wandering around. Inside the town a mix of British colonial architecture, gilded Buddhist pagodas like most famous Swedagon Paya combined with modern high-rises can be found.

Yangon could be called Myanmar's hub of commerce and art. It was hit by outburst of new bars, restaurants and shopping centers. While exploring the city, new constructions, building sites and renovations can be witnessed almost everywhere.

Nevertheless, there are many spots in the city where you can feel like after using time machine. For some it is parks and other it is temples. Thousands of locals are visiting holy places or green areas, trying to get away from busy Yangon rhythm and ongoing chaos. However, no one can avoid the downtown with its vast open-air market and impressive colonial architecture.
Helpful tips
---
Restaurants. There are multiple places in the city where you can find descent food. In most of the local restaurants you will find price and quality ratio alright and food fresh, especially fish as city is close to Andaman sea. In many restaurants they even have aquariums where you can choose food from. Stop by and try local food in street markets, look for a cleaner place and enjoy!

We enjoyed snacks in various markets which occurs every day, for this especially famous is the Chinese district. However, markets are not everything in Yangon. There are hundreds of amazing restaurants, bars and coffee shops all spread around the city, you just need to look for a perfect one which suits what you like!

We tried many different places, however, we came back to this place "999 Shan noodles shop" many times as it had great variety of local food and every time we visited, we ordered something new. On top of that, you could pay with card there and price and quality ratio satisfied us.

Markets. In Yangon as in almost every other city in Myanmar you will not easily find a lot of cheap souvenirs to put on your fridge. However, we encourage to walk around and look for hand made goods in local markets. Here they will charge you less the less you look like a tourist and if you know some simple Myanmar phrases, that will melt their hearts away. In shops all over city prices vary around same level, thus, choose a more convenient for you. We found that City Mart shop chain accepts card payments and have a wide variety of thing you might need. However, there are not many shops which would accept card payment, thus, be prepared and have some cash with you!

Transportation. To get to Yangon you can use car, bus, train or plane as it is the largest city of Myanmar. We visited Yangon twice during our trip, first we traveled to Yangon with train from Mawlamyine. In schedule it should have taken us around 5-6 hours, however, it took us more than 12 hours to get there. We would not recommend taking train from more remote areas. Second time we came to Yangon with a bus from Thandwe. The distance was long, there was not a lot of space between the seats and the ride was around 15 hours. Most of the roads are under construction and at some parts you could not even call them roads. Especially if you need to cross mountainous region, be prepared that it will take some time. Either way you choose, if you are aware that infrastructure is underdeveloped, roads are small and sometimes two-line road (one line each direction) is already considered as a highway, then you can relax and enjoy the trip not only the destination.

Inside the city you will find yourself using local Tuk Tuk's, bikes, taxies or buses which are one of the most convenient transportation devices used to get around. However, exploration is doable on foot if you decide to skip on bus. The distances are quite large though. If you are used to walking 15-20 kilometers per day, Yangon will not scare you!
Best of luck planning your holidays in Myanmar!

Is there anything else you would like to visit while in Myanmar?

If you have anything in mind, please let us know and let's discuss it.

For more traveling tips subscribe to our newsletter!