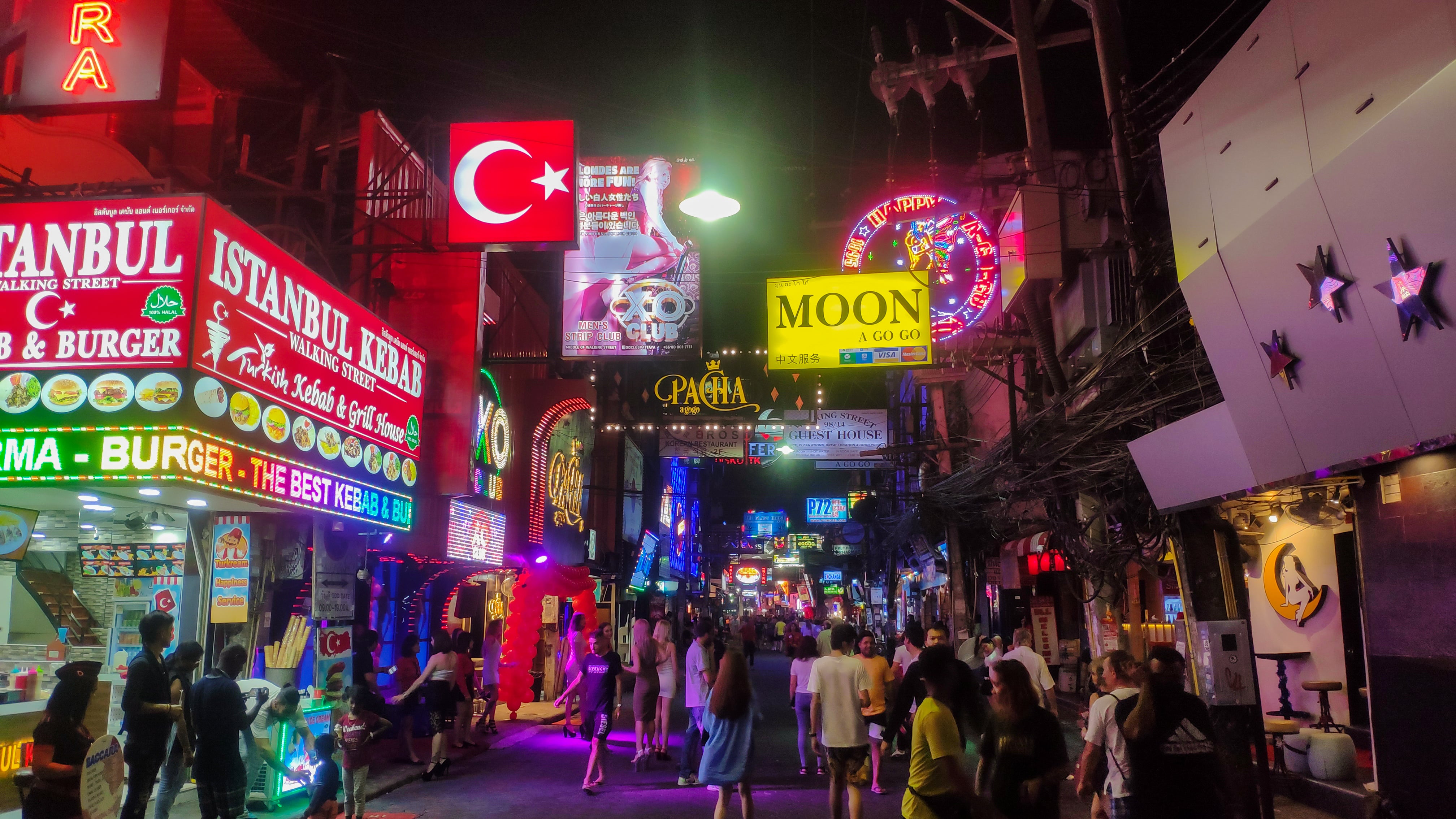 Pattaya
Pattaya once a quiet fishing village and one of the Thailand's first beach resorts with crescent-shaped bay. Now is always switched on and fun! The bay is lined with resort hotels, high-rise condos, huge shopping malls, cabaret bars and 24-hours clubs. Even if you know exactly what to expect of Pattaya, it still has its ways to surprise!

The expansion of this dynamic coastal city started in early 1980s. And now it became a multicultural and super touristy town with many great value places to stay and eat. Even though the city is not a tropical paradise, from sunrise to sunset hundreds of water sport lovers and sun worshipers take their way to the beach. After dark, the crowds shift to the streets to explore Pattaya's exciting nightlife where they find endless partying and stay drinking until dawn.

City's reputation as a sex capital is well earned, streets full of beer bars, go-go clubs and massage parlors attracts thousands of visitors every year. Massive number of retired expats moved and are living here. Apart from water sports and nightlife, Pattaya offers endless possibilities when it comes to accommodation and entertainment. If you seek relaxing stay here, base yourself outside the central area. City center is dedicated to numerous markets, sun-seeking tourists and enormous tour groups who stroll around like in a constant stream. It is safe to state that Pattaya has something for everyone!
Helpful tips
---
Restaurants. There are multiple places in the city where you can find descent food. In most of the local restaurants you will find price and quality ratio alright and food fresh, especially seafood. Stop by and try local food in street markets, look for a cleaner place and enjoy!

We particularly enjoyed this place couple hundred meters south from Central Marina. It was a line of small restaurants combined under one roof in some sort of a huge parking lot near "Hones T" restaurant. While wandering around there, it is possible to find most of the seafood dishes or Thai traditional food which will be really good and with decent portions while pricing is great!

Markets. In Pattaya as in almost every other city in Thailand you will easily find a lot of cheap souvenirs to put on your fridge. Local markets will charge you less the less you look like a tourist and if you know some simple Thai phrases, that will melt their hearts away. In shops all over city prices vary around same level, thus, choose a more convenient for you. Tesco Lotus accepts card payment, even if you do not spend 300 baths as in every other shop like for instance 7/11. We found it particularly convenient when you just need something like a water bottle or some snacks.

Transportation. To get to Pattaya you can use car, bus, train or plane as it is relatively close to the capital it has great accessibility. We traveled to Pattaya using hitchhiking from Bangkok. After we got out of Bangkok it was an easy trip. We walked out on the main road from the place we stayed got a free bus to Megabanga and from there started to hitchhike. Successfully caught a ride and reached our target. Either way you choose, be aware that infrastructure is quite developed, roads are huge with many lines and there is a lot of traffic. Do not forget to also enjoy the trip not only the destination.

Inside the city you will find yourself using local Tuk Tuk's, bikes and mopeds which are one of the most convenient transportation devices used to get around. However, exploration is doable on foot if you decide to skip on bike.
Best of luck planning your holidays in Thailand!

Is there anything else you would like to visit while in Thailand?

If you have anything in mind, please let us know and let's discuss it.

For more traveling tips subscribe to our newsletter!