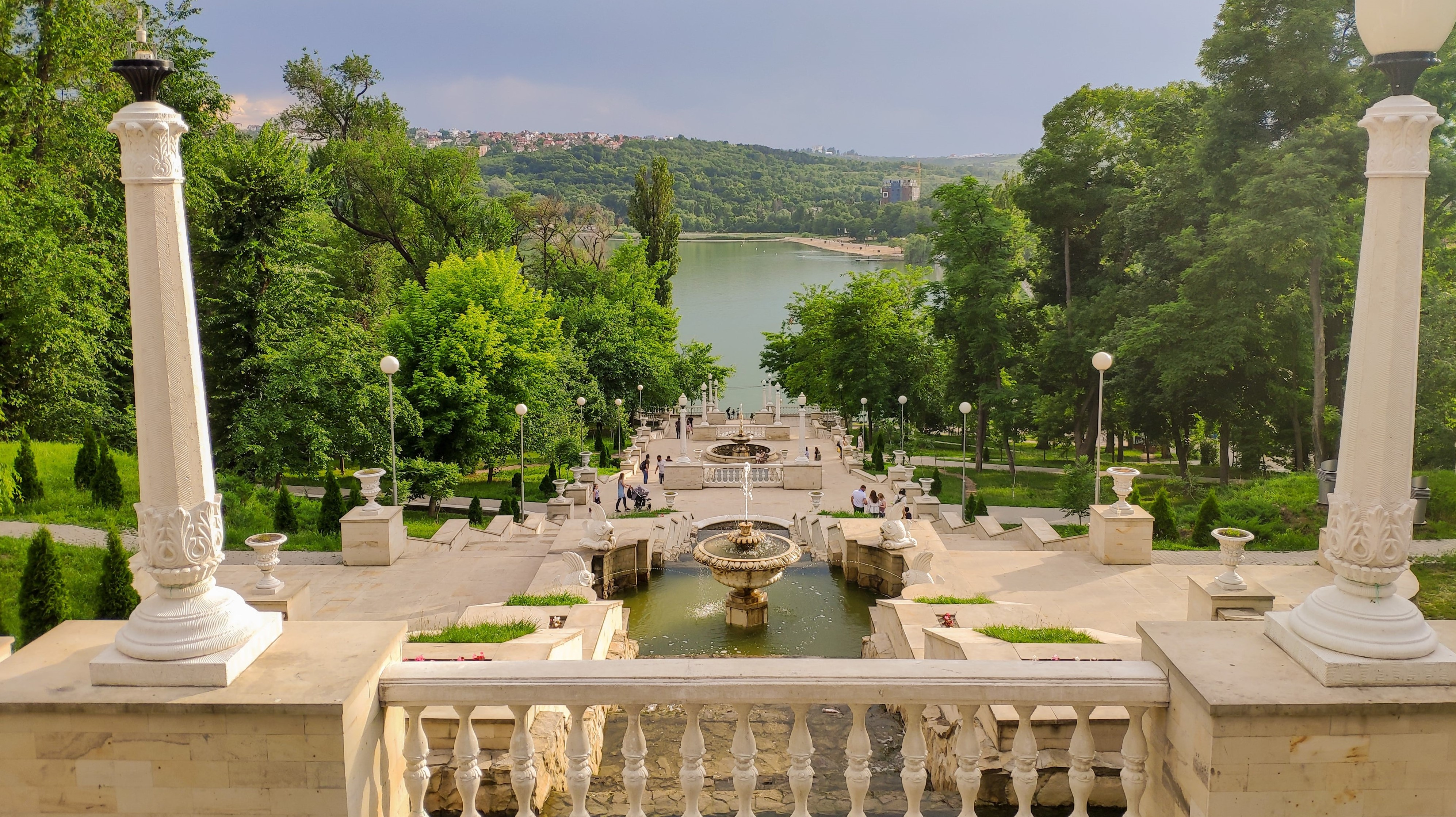 Chisinau
Chisinau is the capital of Moldova situated in the center of the country, thus, pretty much every road lead to it. The city and even the whole country could be called a wine-and-food loving place. Even though, the city was founded in 1420 most of the capital was leveled during second World War and tragic earthquake before the war. What can be seen today was mostly build during Soviet period, therefore, you will find a lot of grandiose Stalinist architecture mixed with gloriously brutal modernism.

When we arrived, our host insisted that there is not much to see here and we could fit everything in one day. Well, we found out that he was absolutely right. If you are not spending many hours inside museums, you could investigate most of the historical buildings in one day – even if you are on foot. Thus, if you plan to visit Moldova – consider traveling through whole country and exploring its marvelous wine yards and nature rather than get stuck in this massive building jungle.
Helpful tips
---
Restaurants. In Chisinau there are many great places and some of them we managed to visit even twice. As well, we got amazing recommendations from locals. First, and in our opinion best price and quality holding is "La Placinte", the one located near Cathedral Park. We found both food and price there surpassing our expectations. However, the service there as in whole country is poor. It serves delicious local food. Believe us, you will find it difficult to taste all their dishes through one visit!

There is also "La Taifas" situated not far from the city center, also, not a cheap place, however, this place was suggested to us by a local who holds a lot of knowledge about restaurants and bars. If you have a chance to visit this place, you will find great local food prepared in here.

Markets. In Chisinau as in every other location on the world welcomed by tourists you will have plenty of shops who can sell you overpriced souvenirs.

Prices in grocery shops are the same as through whole Moldova, however, take into consideration that bigger shops usually hold better price.

Tap water in Chisinau and in whole Moldova is not considered good in any way. They use chlorination process of adding chlorine to drinking water to disinfect it and kill germs. Thus, the water in whole country has chlorine smell and does not taste good. Our host and his local friends advised us to not use water from tap for drinking, but you can boil it though.

Transportation. To get to Chisinau you can use plane, train, bus, car or any other transport you feel like using. As it is the largest city in Moldova, it has great accessibility and tourists can find it easy to get to the city and around.

In the city it is common to use public transportation such as buses small minibus which drives around the city. We used both, it is very convenient to use buses in the city center, especially if you live couple kilometers away from the main attractions (as we did). Nevertheless, we tried the small minibus as well, when we went out of the city. The bus station is usually crowded and there are many people there. It is relatively hard to find where and when your minibus will be especially if you do not speak Romanian. However, it is possible and people there are really helpful.
Best of luck planning your holidays in Chisinau!

Is there anything else you would like to visit while in Moldova?

If you have anything in mind, please let us know and let's discuss it.

For more traveling tips subscribe to our newsletter!