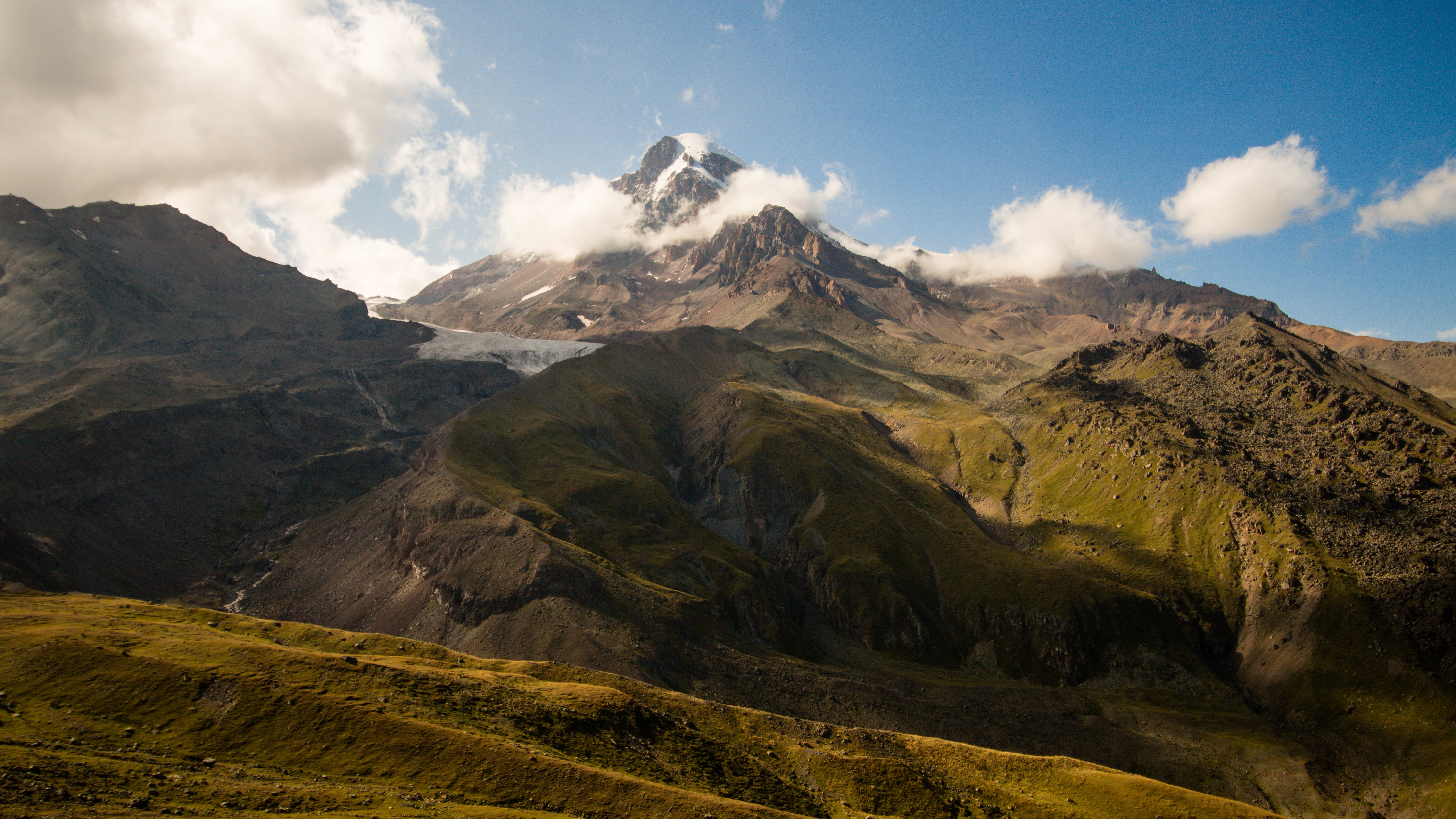 Stepantsminda (Kazbegi)
Kazbegi – is a small town in the north-east of Sakartvelo which is now officially named Stepantsminda. Quite new town which is growing on foothill of increasingly high tourist destination – Mt. Kazbek. The town is a base for some wonderful walking and mountain biking routes. While hordes of tourists and local business owners may not have added to Stepantsminda any charm, the town is still in a location which remains absolutely stunning. Nevertheless, it is quite easy to escape the crowds and explore the surrounding mountains and valleys in peace.

The distance between Tbilisi and Stepantsminda is only 149 km, so it is possible to plan a one day trip. However, we highly recommend staying there at least for a night as there are many interesting activities you can engage in.

First stop on your list when starting your hike to Mt. Kazbek is – Gergeti Trinity Church. It was built in 14th century and is located around 2,100 meters above sea level. If you have time, you can walk up the hill to the church, but keep in mind that it will take up to 2 hours. Other options are renting a horse, or a taxi and you can always hitchhike because there are many tourists everyday going up and down.

From the church you can start climbing Mt. Kazbek. An incredible, picturesque and breath-taking scenery unfolds from the trek. It is challenging for all who like mountain climbing and you should come prepared. Either you are up for just one day hike up to glacier and down or you want to enjoy your time in the nature for a bit longer and maybe even storm the summit.

On your way to Kazbegi (Stepantsminda) you will see many picturesque locations. If you have a possibility stop and enjoy colorful and wonderful nature of Sakartvelo on your way to the north.

Gudauri - one of the small towns which you will pass on your way there. It is one of the most famous skiing resorts in Sakartvelo. In summer nearby you will find hundreds of paragliders, most of them are clustered north from the town near Georgia-Russia Friendship Monument.
Helpful tips
---
Restaurants. Most of the restaurants are clustered in small Stepantsminda & Gergeti mountain towns which are crawled with tourists.

Markets. In Kazbegi as in every other location on the world enjoyed by tourists you will have plenty of shops who can sell you overpriced souvenirs. Prices in grocery shops are the same as through whole Sakartvelo, however, take into consideration that bigger shops usually hold better price.

Tap water in Kazbegi and in whole Sakartvelo is amazing. They have huge underground water reserves, mountain springs and water there is clear and tasty in most of the places. Thus, we recommend trying it and do not bother buying it from shops. Neither of our hosts advised against using water from tap for drinking.

Transportation. To get to Kazbegi you can use bus/shuttle (costs around 3 EUR) or car (preferably 4-wheel drive). Even though it is one of the most visited mountain range in whole Sakartvelo, it has not a blissful accessibility as it is remotely located near Russian border. By the way, Sakartvelo is a quite safe country with welcoming people, so do not be afraid to hitchhike. This will surely save you money, but plan your time correctly, thumbing all the way to Kazbegi could require one full day or less than it takes with a shuttle, it all depends on your luck.

In the region it is common to use public transportation such local taxies which are the fastest way to get around the region. We preferred walking as it helps to get to know the region and see not only the touristic places and we recommend you do the same if you have the chance.
Best of luck planning your holidays in Stepantsminda!

Is there anything else you would like to visit while in Sakartvelo?

If you have anything in mind, please let us know and let's discuss it.

For more traveling tips subscribe to our newsletter!