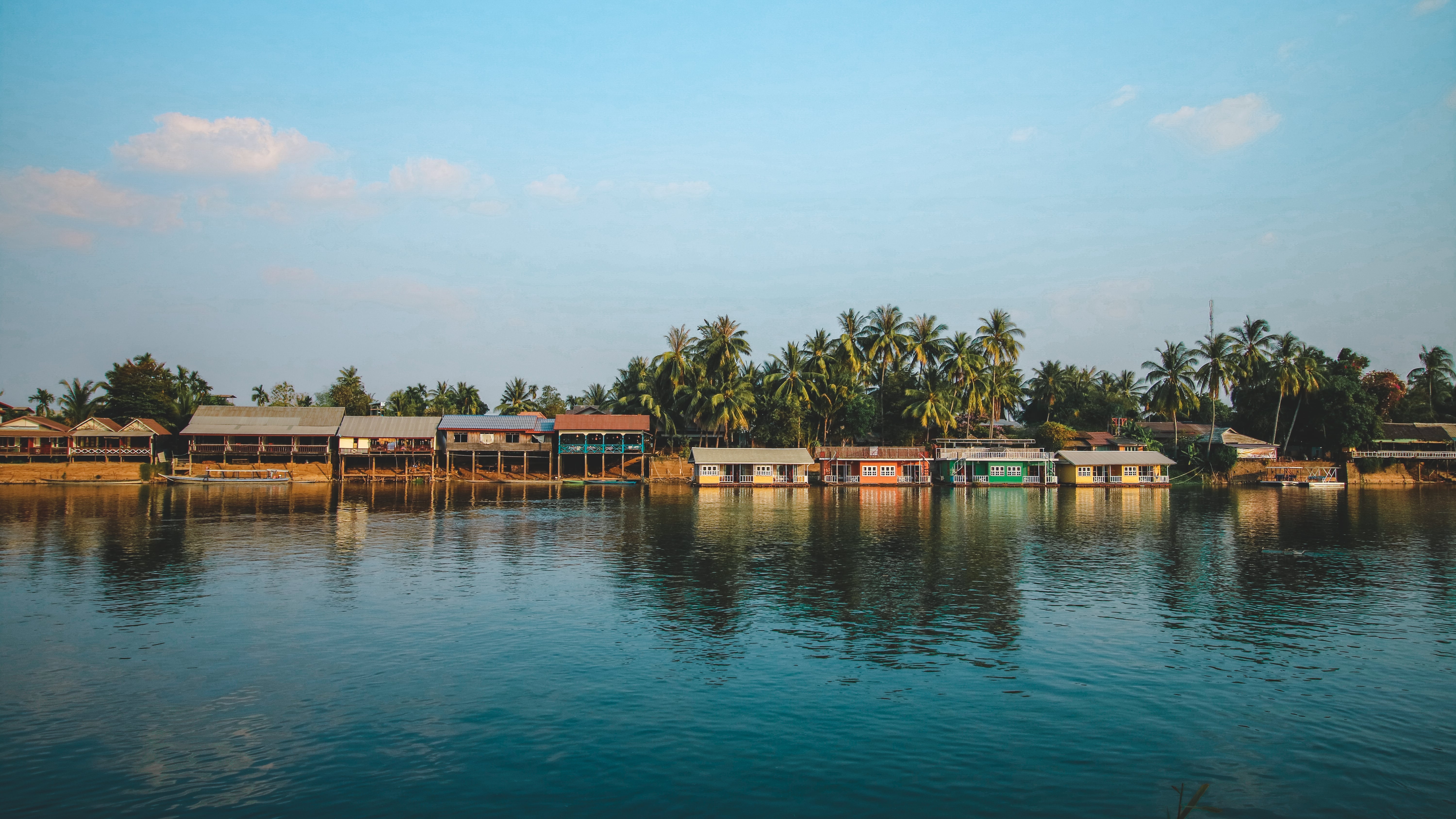 Si Phan Don
Si Phan Don also referred to as four thousand (4000) islands is a riverine archipelago situated in the widest reach of Mekong river on the edge of southern Laos. It is a laidback, sleepy and charming place where the pendulum of time swish slackly and postcard-worthy sights are surrounding you most of the time.

Many of the four thousand islands are uninhabited, they are too tiny for roads and during rainy and flood season for Mekong river sometimes more than half of the islands submerge underwater. Those islands which are inhabited not for long have electricity. Si Phan Don could be called opposite to the tourist traps of Vang Vieng and Luang Prabang. Many travelers skip this destination due to hard accessibility but those who arrive here, easily give in to its enchantment and stay longer than expected.

Between all 4000 there are two main islands "Don Det" and "Don Khon" where majority of accommodation options, bars and restaurants are situated. From here it is easy to reach most of the attractions scattered around the islands. Every island here is practically the same and, in some way, different, there is no need to visit all four thousand of them to understand that. In all islands there is a possibility to get all same experiences, feel the chilled-out vibe, magical sunsets, bicycle your way around, swim in mighty Mekong river or cross out something out of a bucket list. The main difference is created by travelers. On one hand it creates more and more tourist infrastructure, activities you can perform and attractions you can pay for. On the other hand, the more touristic it gets, the more original charm it loses.

We started our journey around Si Phan Don in "Don Sadam" island which was the only one which we reached using a bridge. There is completely nothing special or different about this particular island except that here recently they build a huge power plant exploiting the Mekong river. Also, it is the island where you can witness massive waterfall array. From here we moved to well known "Don Khon" which we decided to make our base of operations. We enjoyed it! As one of the main islands it is touristy, however, less crowded than packed "Don Det" where most of the visitors end up as a starting point exploring the islands. From here we visited many surrounding islands including already mentioned "Don Det" and enjoyed most of what Si Phan Don has to offer. That also includes biggest waterfall in whole Southeast Asia – Khone Phanpheng Falls! It was a magnificent experience and these 4000 islands could be one of the reasons to come back to Laos in the future.
Helpful tips
---
Restaurants. There are multiple places in major islands where you can find descent food. Streets are dotted with multiple restaurants attracting foreign visitors. In most of the local restaurants you will find price and quality ratio alright and food fresh, especially fish as these islands are in majestic Mekong river.

One of the best places in Don Khon island we found was "Noknoy" riverside restaurant. We enjoyed several meals there and everything was much better than expected. Also, a good spot situated in Don Det was called "Ning Ning" where we found ourselves enjoying a pint of local beer.

Markets. In the islands as in almost every other city in Laos you will not easily find a lot of cheap souvenirs to put on your fridge. However, we encourage to walk around and look for hand made goods in local markets. Here they will charge you more if you look like a tourist. In shops all over city prices vary around same level, thus, choose a more convenient for you. We did not find a shop which would accept card payment, thus, be prepared and have some cash with you!

Transportation. To get to the islands you will need to use boat as it is not a large city rather a cluster of islands. Except Don Sadam, there is a bridge to this island, and you can choose how you want to reach it. We traveled to Don Sadam on foot from the border with Cambodia which we reached using hitchhiking from Preah Vireah. The road quality is not great, and they are not massive. Either way you choose, be aware that infrastructure is not bad but clearly not the best, roads are small and sometimes two-line road (one line each direction) is already considered as a highway. So, do not forget to enjoy the trip not only the destination.

Inside the islands you will find yourself using local Tuk Tuk's, bikes or mopeds and most often boats which are one of the most convenient transportation devices used to visit other islands or get to the mainland. However, exploration of every island is doable on foot if you decide to skip on bike.
Best of luck planning your holidays in Laos!

Is there anything else you would like to visit while in Laos?

If you have anything in mind, please let us know and let's discuss it.

For more traveling tips subscribe to our newsletter!