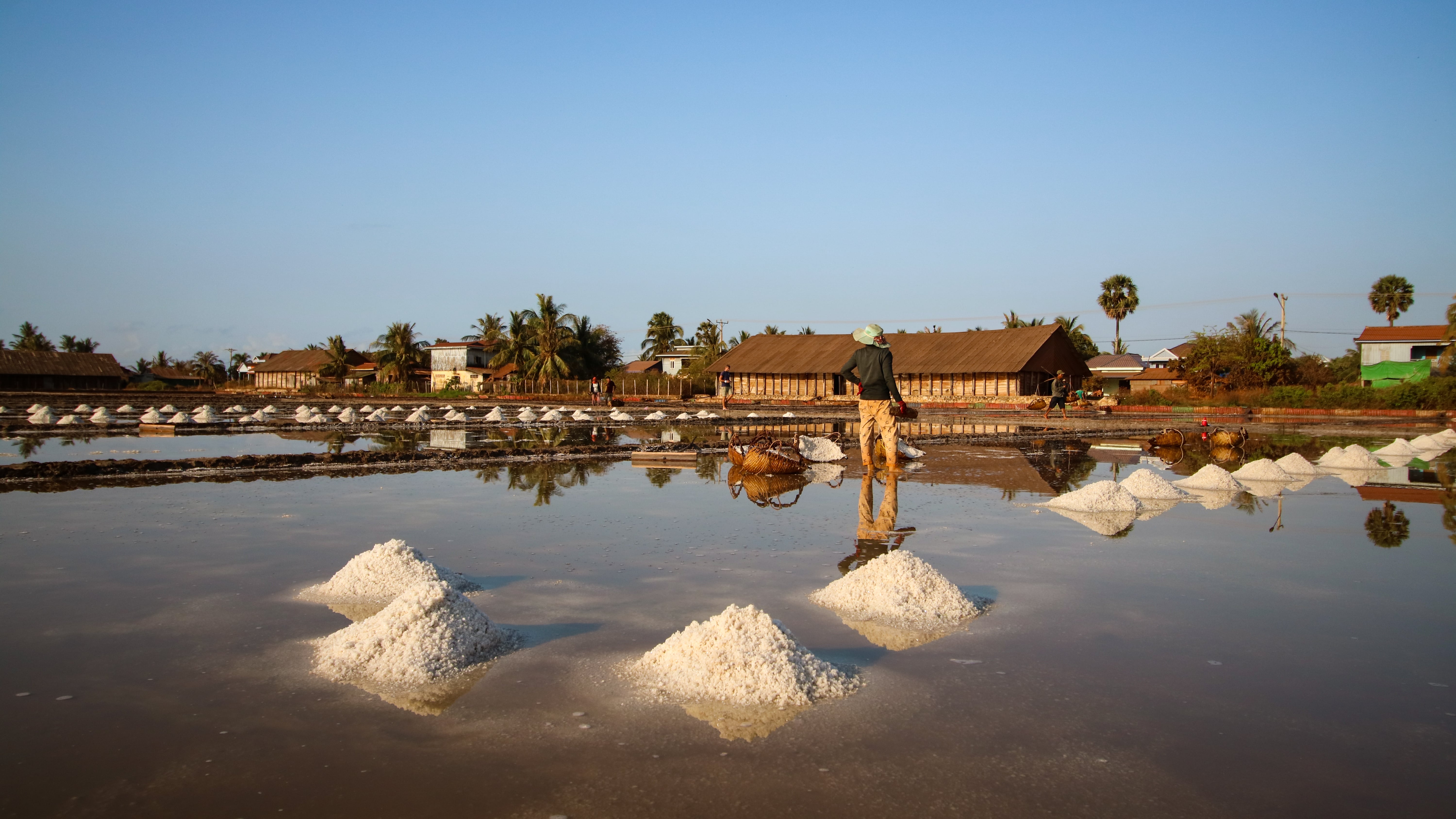 Kampot
Kampot is a small river city on the shores of Preaek Tuek Chhu in southern Cambodia. While visiting it is hard not to see why travelers become charmed with this city. Most of its architecture was built during colonial period. Not much have changed since then, including the streets framed by shabby shophouse architecture. Even without spending your time in this charming city, the famous sights around of the city can keep you occupied for at least couple of days.

The city is great, but its surroundings are even more wonderful. Nearby, just five kilometers from the city center on the south-west part of the town best kiteboarding spot in whole Cambodia can be found! It is amazing! The firth of Kampong Bay River where it is located rises and falls with moons. Just a bit more to the west from there is superb Preah Monivong Bokor National Park where it is possible to enjoy cool climate with forests, waterfalls and wildlife. On the other side, east of the town ancient, mysterious and splendid pre-Angkor cave-temples can be found with rural countryside of the surrounding area, as well as, tiny neighboring seaside town of Kep where sea food lovers can enjoy freshly caught blue crab for dinner.

Kampot is also well known for its pepper plantations growing and processed in the north of the town. For several decades, Kampot pepper is ranked among the best around the world. There was a time when any self-respecting French chef would insist on using Kampot pepper. Here the pepper is grown in an especially fertile and a perfectly apt environment. The highly sought-after flavor of pepper is derived from the rich minerals in the soil, the sea air, the bat guano and cow dung that is used as fertilizer. On the other end, salt fields situated in the south from the center and on south-eastern edge of town. Many argue that salt and not the pepper is what Kampot is really famous for. The salt fields are close to the ocean so that it would be easier to let ocean water into the fields. Afterwards, blocking them and allowing water to evaporate creating salt crystals. This process then repeated many times. Salt production takes part during dry season from around the late November to April.

All the sights around Kampot are easily accessible and explorable, thus, they get quite heavy tourist traffic. However, Kampot and its surrounding areas are capable of handling tourist invasions, there is a great deal of accommodation from easygoing backpackers to luxury enjoying resort travelers.
Helpful tips
---
Restaurants. There are multiple places in the city where you can find descent food. In most of the local restaurants you will find price and quality ratio alright and food fresh, especially fish as city is close to Gulf of Thailand. In many restaurants they even have aquariums where you can choose food from. Stop by and try local food in street markets, look for a cleaner place and enjoy!

Most of the great food places we found owned by foreigner or foreigners just working there as volunteers. Many from which situated in the heart of town. As in great deal of cities in Cambodia, here we found no exception and part of good food restaurants also provided accommodation.

While here be sure try street food from night market, its relatively cheap and great opportunity to have something truly local.

Markets. In Kampot as in almost every other city in Cambodia you will not easily find a lot of cheap souvenirs to put on your fridge. However, we encourage to walk around and look for hand made goods in local markets. Here they will charge you more if you look like a tourist. In shops all over city prices vary around same level, thus, choose a more convenient for you. We did not find a shop which would accept card payment, thus, be prepared and have some cash with you!

Transportation. To get to Kampot you can use car or bus as train station was closed, although, it is a beloved tourist destination. We traveled to Kampot using hitchhiking from Sihanoukville. The road quality is alright, they are not massive but well maintained. We got lucky and reached Kampot just before the sunset. Either way you choose, be aware that infrastructure is not bad but clearly not the best, roads are small and sometimes two-line road (one line each direction) is already considered as a highway. So, do not forget to enjoy the trip not only the destination.

Inside the city you will find yourself using local Tuk Tuk's, bikes or mopeds which are one of the most convenient transportation devices used to get around. However, exploration is doable on foot if you decide to skip on bike.
Best of luck planning your holidays in Cambodia!

Is there anything else you would like to visit while in Cambodia?

If you have anything in mind, please let us know and let's discuss it.

For more traveling tips subscribe to our newsletter!