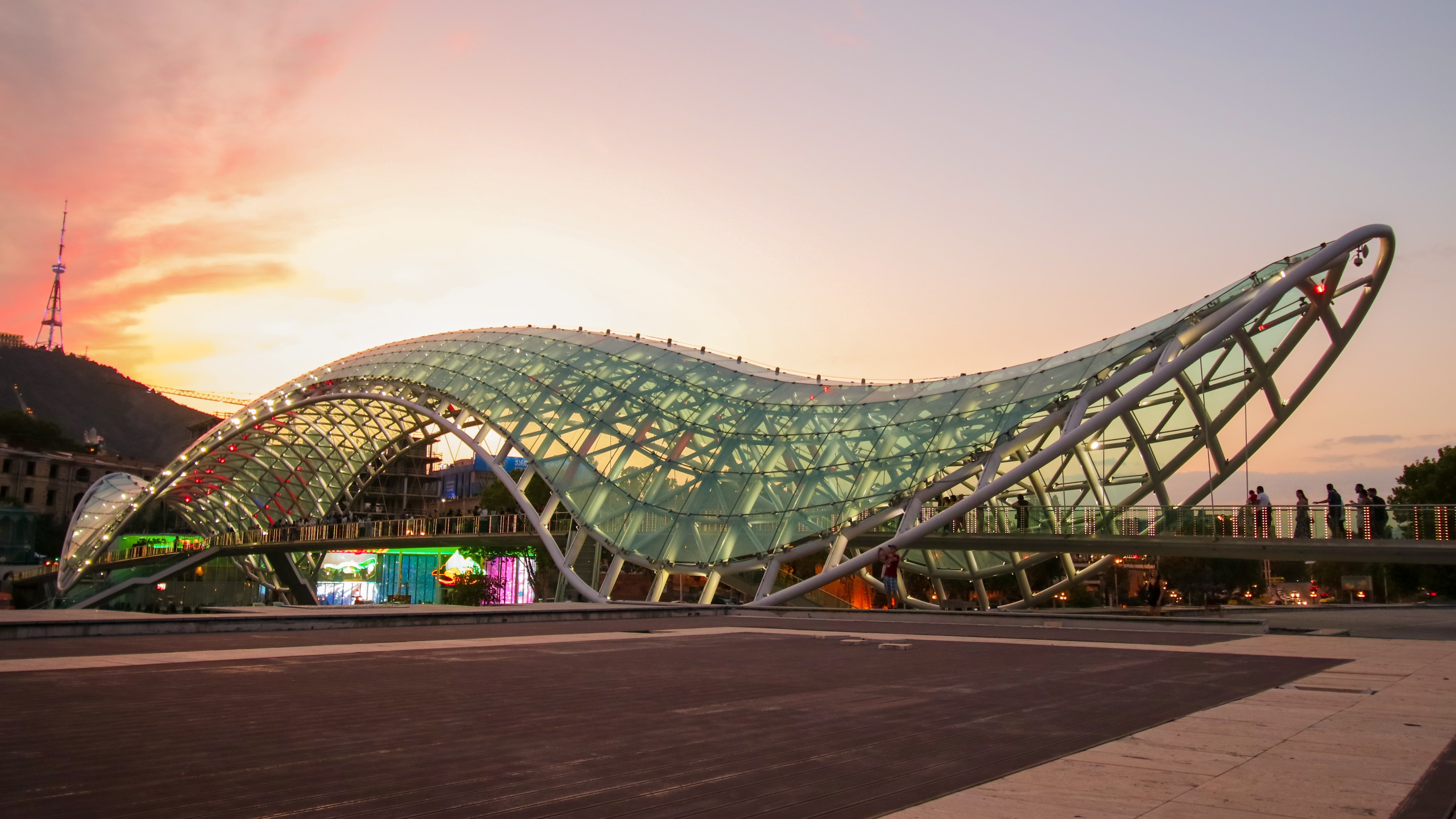 Tbilisi
Tbilisi – an ancient and vibrant capital city of Sakartvelo situated on the both banks of Mtkvari River and surrounded by mountains from three sides. The city was destroyed and rebuilt more than 26 times and its cobblestoned old town reflects a long, complicated history, with periods under Persian and Russian rule. Its diverse architecture encompasses Eastern Orthodox churches, ornate art nouveau buildings and Soviet Modernist structures.

Locals tells the legend of how Tbilisi was founded and says that in the mid-5th century AD, King Vakhtang I Gorgasali was hunting in the heavily wooded region with a falcon. The King's falcon allegedly caught or injured a pheasant during the hunt, after which both birds disappeared. As it was the most favorite falcon of King Vakhtang he searched for it and found it in a hot spring. Reaching for the bird he put his hands in hot water and saw that scratches from the hunt are healing. He became so impressed with the hot springs that he decided to cut down the forest and build a city. The name Tbilisi derives from the Old Kartvelian word "tbili", meaning warm. Archaeological studies of the region indicate human settlement in the area early as the 4th millennium BC.
Helpful tips
---
Restaurants. Well if you would like to try all best local food restaurants in Tbilisi it will take you a while. However, on our stay there we tried quite few of them. We found the best price and quality ration in:

"Iveroni" House of khinkali – the name says it all. Amazing khinkali and local dishes with great service and price quality ratio. We enjoyed the food there and would recommend visiting this place.

Zakhar Zakharich – one more local cuisine restaurant where you will find delicious food for reasonable price. Here we tried famous khinkali, special khachapuri (truly amazing dish enough for 2 persons) and beef stew in a pot.

Keep in mind that in most restaurants you will have to pay service fee which is likely to be from 10 to 15 percent. Well and for people who do not like local cuisine and are up for some fancy food which costs more than in most of the local restaurants, we suggest to go to either Mc Donalds or KFC. In Sakartvelo it is a luxurious restaurant with high prices.

Markets. In Tbilisi as in every other location on the world enjoyed by tourists you will have plenty of shops who can sell you overpriced souvenirs. Prices in grocery shops are the same as through whole Sakartvelo, however, take into consideration that bigger shops usually hold better price.

Tap water in Tbilisi and in whole Sakartvelo is amazing. They have huge underground water reserves, mountain springs and water there is clear and tasty in most of the places. Thus, we recommend trying it and do not bother buying it from shops. Neither of our hosts advised against using water from tap for drinking.

Transportation. To get to Tbilisi you can use plane, train, bus or car. As it is the capital and largest city in Sakartvelo, it has great accessibility and you can use any other transport you feel like using.

In the city it is common to use public transportation such as buses or taxies which are the fastest way to get around the city. We preferred walking as it helps to get to know the city and see not only the touristic places and we recommend you do the same if you have the chance.
Best of luck planning your holidays in Tbilisi!

Is there anything else you would like to visit while in Sakartvelo?

If you have anything in mind, please let us know and let's discuss it.

For more traveling tips subscribe to our newsletter!