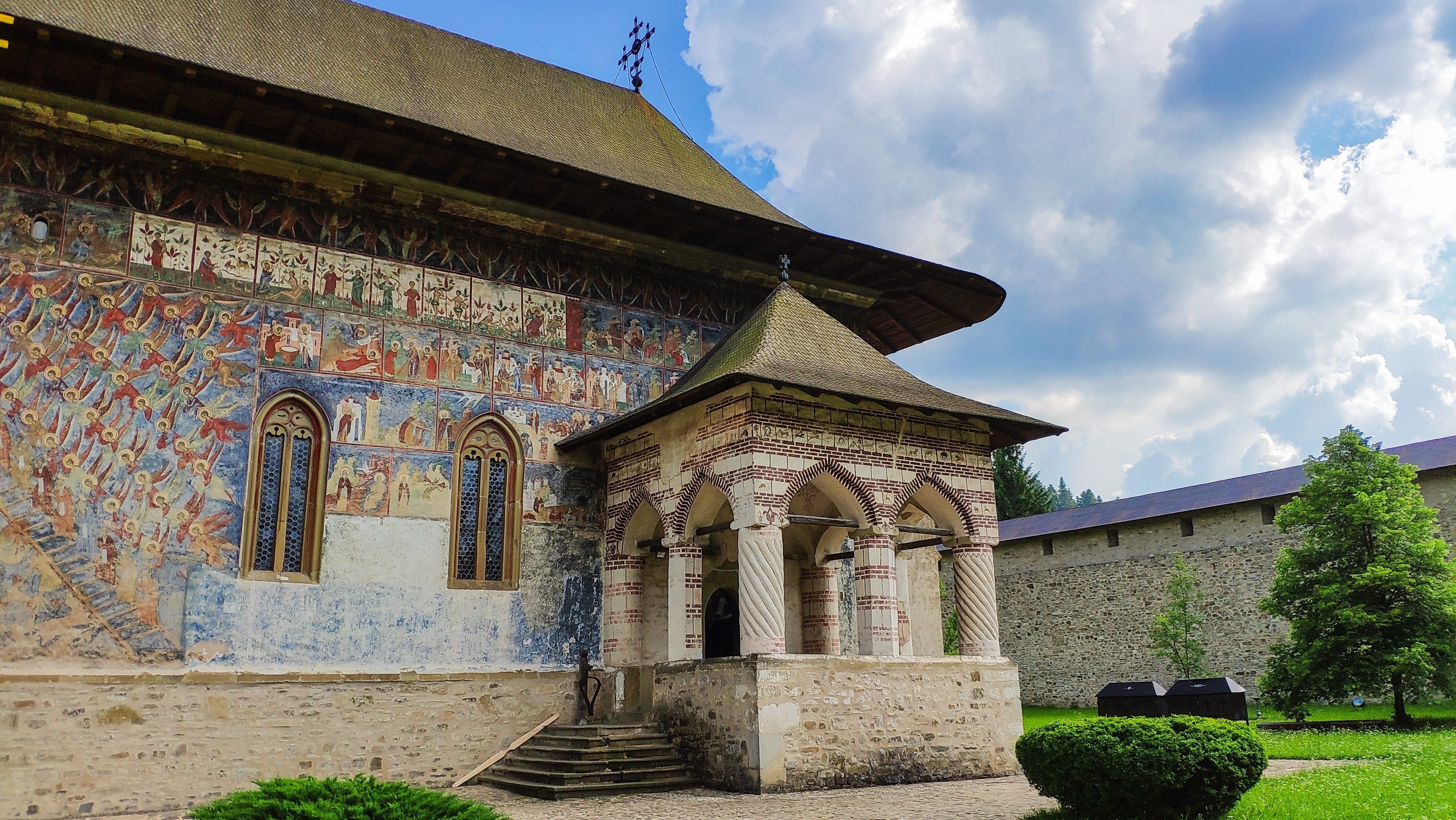 Sucevita Monastery
Sucevita Monastery - masterpiece of painted churches from Bucovina included on the UNESCO World Heritage list. Not many religious monuments are so fascinating and mesmerizing as Sucevita Monastery which marks the end of era when medieval religious art reached new level and is the last church with painted exterior walls from the region. Its rich and monumental exterior are the best conserved and the most impressive in whole region of Bucovina.

Done by a local team of artists in the 16th century, the paintings illustrate traditional religious themes, like Genesis with Adam, Eve, Abel and Cain and their well-known series of Biblical mistakes also 40 detailed scenes from Moses' life, seen above the burial room. The most impressive are the Prayer of all Saints - largest of all Moldavian wall paintings and The Ladder of John Climax or The Ladder of Virtues - a dazzling composition that describes monastic afterlife: heaven and hell for those who disobeyed the rules.

The history of the monastery starts in 1581 founded by Movila brothers Gheorghe Movila, Bishop of Radauti and Ieremia, prince of Moldavia. At first sight monastery looks like a medieval stronghold with walls 6 meters height and 3 meters thick and 5 heavily buttressed defensive towers with firing holes. During the times when the Ottoman Empire required the Moldavian state to destroy its fortresses, monasteries where fortified to use them as a safe retreat in the darkest times. Even a princely palace was included in the original fortification walls, giving an important role for this religious monument.

Nowadays the thick walls of monastery host a museum presenting an outstanding collection of historical and art objects.
Helpful tips
---
Restaurants. We did not try any local restaurants around Sucevita. However, you can find some nice bakeries in Radauti and try their local pastries that are really tasty and comparatively cheap.

Markets. In Sucevita as in every other location on the world welcomed by tourists you will have plenty of shops who can sell you overpriced souvenirs. In nearby towns like Marginea or Radauti prices in grocery shops are the same as through whole Romania, however, take into consideration that bigger shops usually hold better price.

Transportation. You can access Sucevita Monastery by car or bus from Radauti. The nearest train stations are Radauti and Vatra Moldovitei hc.

Getting around Bucovina. While traveling around Bucovina don't forget to visit painted churches from Moldovita, Voronet and Humor. Also, you will be fascinated by wonderful roads of region surrounded by mountains and charming nature.
Best of luck planning your holidays in Bucovina!

Is there anything else you would like to visit while in Romania?

If you have anything in mind, please let us know and let's discuss it.

For more traveling tips subscribe to our newsletter!