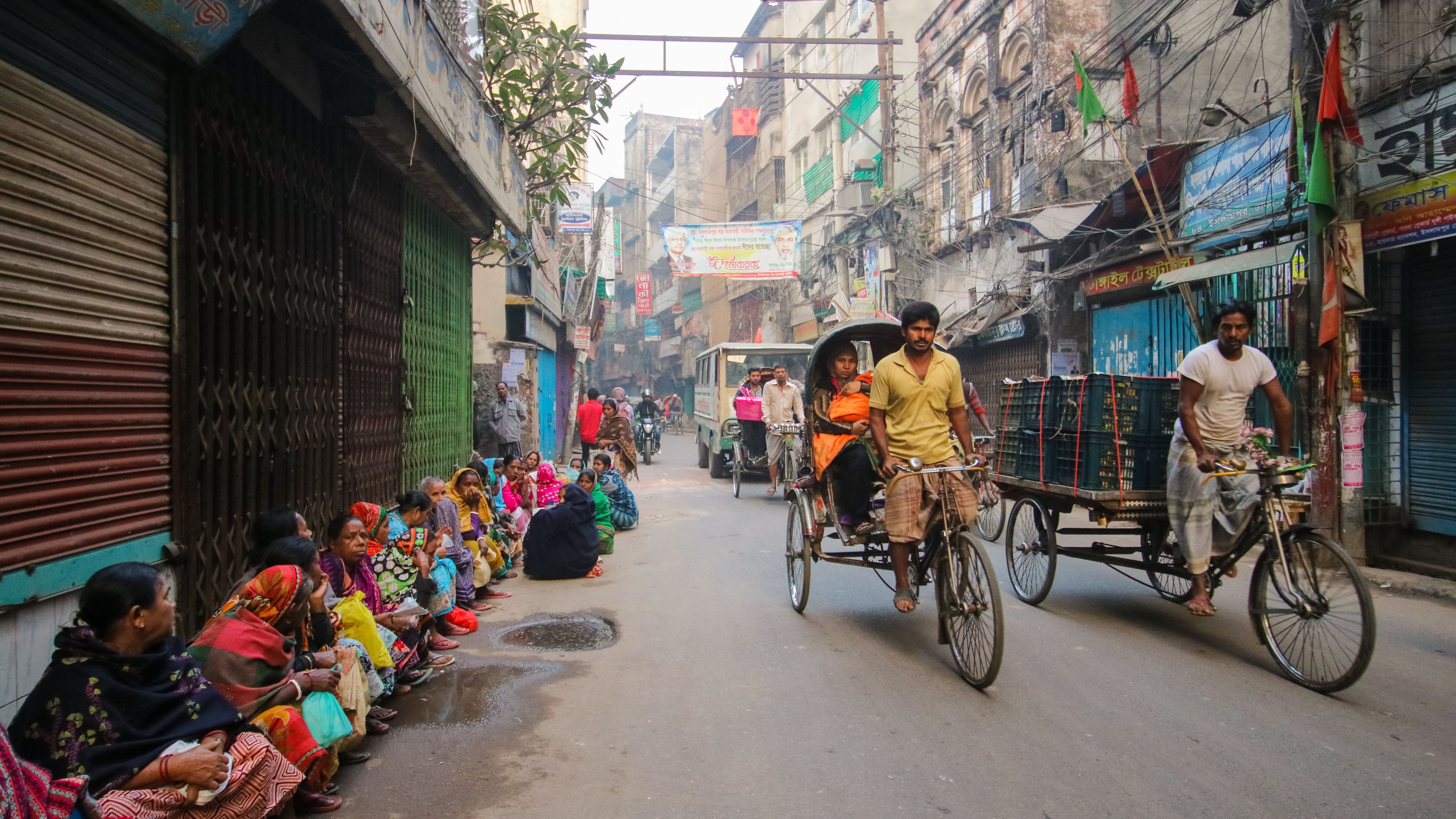 Dhaka
Dhaka is the cultural, political and economic center and the capital of Bangladesh in South Asia. It is chaotic, noisy and lively city which pulse with traffic and masses of around 17 million people every day. Situated beside the Buriganga River, the 17th century old city was the Mughal capital of Bengal, here many palaces and mosques yet remain. As much as it can be overwhelming city, once you slow down, relax and enjoy the moment – you will bring only positive experience from here!

Try climbing into one of the colorful cycle-rickshaws for a change and wander around Dhaka spotting completely unexpected details, which while walking on foot would disappear as you would need to track where to step. Unexpected charm of the city could be felt in old town, after some time it just start to reveal itself. Try our watching a sunset from a boat in Buriganga River or explore one of the green parks and university campuses. Dhaka is a challenging city but the hospitality and warm-hearted people around helps you to get the rhythm and truly embrace this lively city!
Helpful tips
---
Restaurants. There are multiple places in the city where you can find descent food. In most of the local restaurants you will find price and quality ration alright. Stop by and try local food in street markets, look for a cleaner place and enjoy! "Pan Pacific Sonargaon Dhaka" is a place where you can enjoy quick quite breakfast with amazing atmosphere and company.

We mostly explored the restaurants in Baridhara district as our lovely host was living there and we enjoyed going out and having breakfast, lunch or dinner together! As he was the kind of person who rather eat outside it worked for us and we managed to try many different dishes together with the guidance of a local.

One of the highlights was the dinner in "K&B Bar" which is the only working bar on Fridays in Bangladesh. We had lovely dinner which included amazing fish dish. It was superb, we enjoyed it and would recommend this place for everyone.

There is a place near the train track in Baridhara district where you can get grilled chicken with local bread and it is superb. The name of the place is "Soldiers", no wonder that they are situated near military territory.

We also had a chance to enjoy traditional local cuisine dishes in simple Ananya Shopping Complex restaurants.

Markets. In Dhaka as in almost every other city in Bangladesh you will not find a lot of cheap souvenirs to put on your fridge. However, you can get something what locals are making on spot and that is much more interesting if you ask us! In our opinion the most interesting is Bangladeshi rich arts and crafts tradition. Search for things made by locals from wood, leather, copper or most importantly cotton and silks.

Transportation. To get to Dhaka you can use car, bus, train, boat or all and of course it has an airport as it is the capital and the largest city in the country. We visited to Dhaka by many different transportations as we traveled around whole country a lot. First, we arrived to Dhaka with plane, tried Uber, got charged double than expected and were really disappointed. Second time we came to Dhaka with a boat from South-western region, it was an amazing experience and witnessing city in the early morning when the sun was just starting to rise was more than incredible. Third time we came in with the train, also, in the early morning and it was superb experience to walk around the city while it was getting up. Either way you choose, be prepared that it will take some time, slowdown, relax and enjoy the trip not the destination.

Inside the city you will find yourself using local Tuk Tuk's, bikes, boats and Ubers which are one of the most convenient transportation devices used to get around.
Best of luck planning your holidays in Bangladesh!

Is there anything else you would like to visit while in Bangladesh?

If you have anything in mind, please let us know and let's discuss it.

For more traveling tips subscribe to our newsletter!