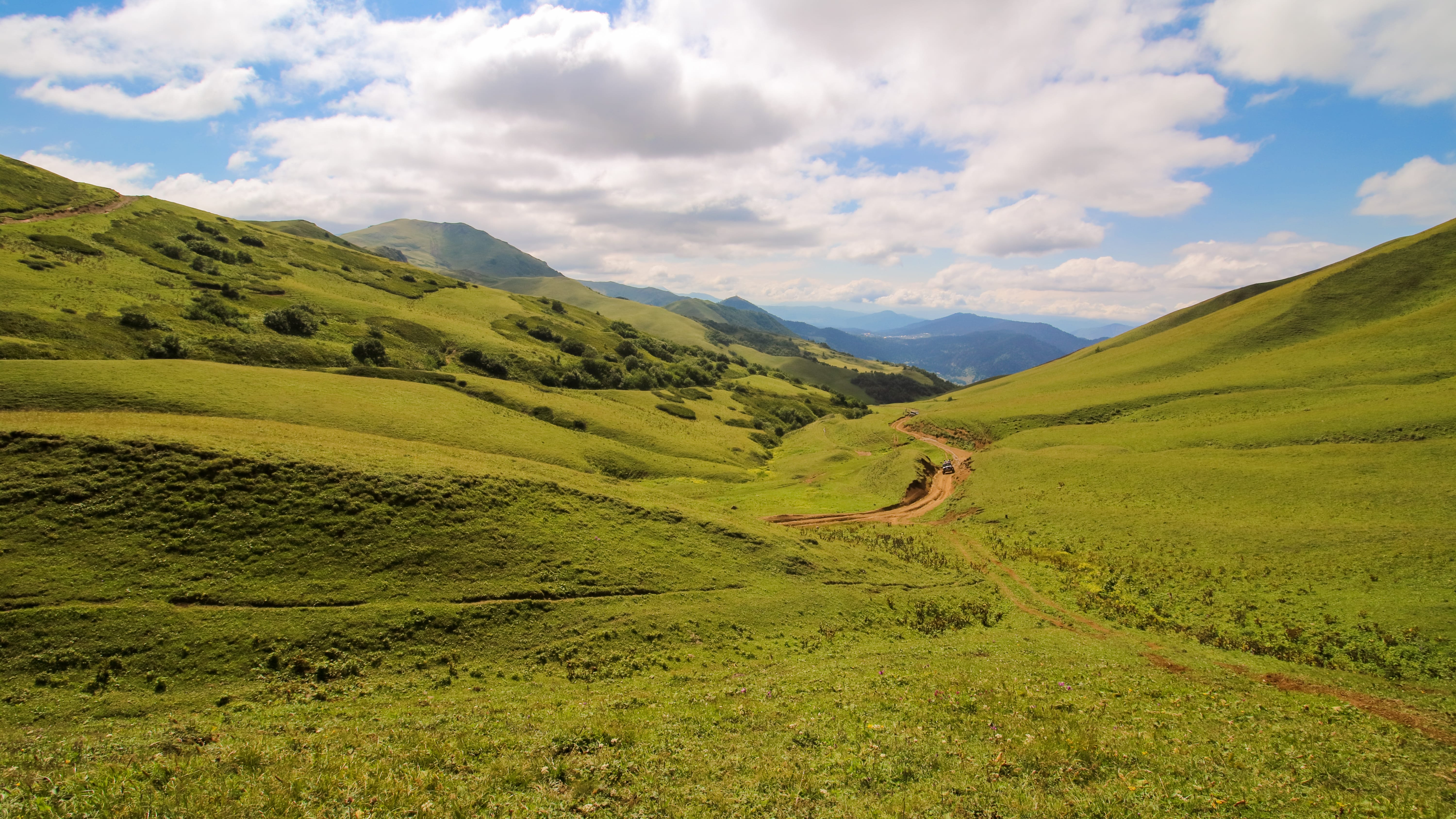 SAKARTVELO
Sakartvelo – also called Georgia is a country a country at the intersection of Europe and Asia. It was a former Soviet republic which borders Russia with Caucasus Mountain range in the north and Black Sea in the west. It is a country famous for its nature, mountains, wine, welcoming people and delicious cuisine.

The capital, Tbilisi, is known for the diverse architecture and mazelike, cobblestone streets of its old town. Most of the larger towns have unique architecture, historical and cultural sites. However, when you are here, we encourage you to travel around and explore nature and villages, stay with local people and experience Sakartvelo in a truly remarkable way. If you come here hopping for a resort with five-star hotels on every corner, European service and cheap prices – you will be disappointed.

The country is small and on top of that fifth of its territory is occupied by Russia. Here you will not find many big roads, they are rather small and with many turns, thus, motorcyclist will love this place. Most adventurous is to go on off road trips with a four-wheel drive (in many places around Sakartvelo it is great to have a four-wheel drive). Here we found so many stunning sceneries, warm and welcoming locals, mirror lakes, white water rivers, colorful hiking treks and caves, forests and so many different landscapes, lovely valleys, beautiful sea and steep mountains – we believe there is a place for everyone here, you just need to find it!
What to expect
---
Georgian lari. If you have euros or dollars, it is considerably easy change money at any bank or exchange center you go. Taking money from your card in local ATM's does not cost when you use "Revolut" or equivalent cards. Most of the bank here will not charge additional fee, however, if you see additional fee, we advise you to switch to another ATM nearby.
When we are thinking about the climate of Sakartvelo we must take into consideration that this country has many different altitudes and on the west part country has Black Sea. Starting with the west plain, on the coast climate is mild and rainy, while it is more continental and arid in the central and eastern inland areas. In the mountains, it is obviously colder.
The official language is Karvelian. Younger generation mostly speaks Karvelian and know English (understands a lot), however, due to poor education system their English talking skills are very poor. While older generation usually speaks Kartvelian and know Russian to some extent. There will be no problem communicating if you know at least one of these three languages. You can always use translator.
We believe that best times to visit Sakartvelo are Spring and Autumn months, especially from mid-May to mid-June and from mid-September to mid-October. Since autumn is very rainy in the coastal area, here, you may prefer spring. While best period for a beach holiday, and also for hiking in high mountains, is of course the summer, from June to August, when it can get hot in Tbilisi and in inland valleys.
From locals we got to know that best coverage is offered by Magdi. Prices in many operators differs only slightly and they have many different plans to choose from whether you need calls, internet or both. We decided that we only need internet and chose this operator with a plan where for 9 EUR you get 20GB of data, you can additionally add money on your account in order to make some calls and messages. For us it was great experience, internet worked well and in most of the places we visited.
Hitchhiking through Sakartvelo was not easy as we heard before entering the country and expected it to be. We had very high expectations and thought that this will be the country where it is easiest to catch a ride. Something like "It does not matter where you stand..." or "You will not need to wait more than couple minutes..." was our expectations. Unfortunately for us, it was a bit different. However, the overall experience of hitchhiking is superb, not being the best country to hitchhike does not put them anywhere near the worst countries. It is relatively easy to do it and on average it will take you up to 10 minutes maximum if you choose a right spot to do it. We enjoyed it and definitely bring one of the best hitchhiking experiences from Sakartvelo.